Any motorcyclists

07-11-2007, 11:26 PM
JK Jedi Master
Join Date: Oct 2006
Location: O HI 4 Lo
Posts: 15,133
Likes: 0
Received 0 Likes on 0 Posts

Any motorcyclists
---
I'm watching the history channel. It had motocycles on all night and made me think about this..

Anyone ride?

I started out on a 2003 Sportster, then bought a 2005 sportster. After my uncle passed I got his 1990 Electra glide classic.

So now I've been riding that around. I ended up selling the sportsters and havent looked back. I prefer to cruise and listen to the radio rather than fight the wind on the little sporty. I never did get into the sport bikes, I really wanted to ride them, but I knew I'd go 100 mph and end up dead...

who else rides and what do you have??


Someday, I'd like to get a street glide or a Screaming Eagle V-rod for fun...

07-12-2007, 12:22 AM
JK Freak
Join Date: Mar 2007
Location: AZ via AK, MN, MA, CA, etc!
Posts: 532
Likes: 0
Received 0 Likes on 0 Posts

been riding a bit...
---
...actually since about FRs age (i.e. for several decades).

Started with a wrecked 125 that I rebuilt. After that I always had at least 2 for projects with one functional and as soon as the next was up - I'd sell the first and go get another. Next were some 250s, 350s (favorite through undergrad was an RD350), 550s, 650s (the nitehawk was a bit dangerous!), many 750s (sold the seca the week after I scraped a peg going 'round a cloverleaf in Minnesota at about 55 - that was a first for me), several Gold Wings, Ventures, Concourses, and KZ1000 police bikes. Only had one Harley and it was a nightmare. I know times have changed but I haven't found a good one yet at a reasonable price to pick up. Even at the insurance auctions folks are bidding retail for bikes with 5K worth of damage but I'll keep watching.

Pretty sure though that when this batch is gone, I may hold off for quite a while. The JK is a lot of fun to drive and a helluva lot safer!
---
Last edited by AZToad; 07-12-2007 at

12:31 AM

.

07-12-2007, 02:11 AM
JK Super Freak
Join Date: Apr 2007
Location: SCV, Ca
Posts: 1,544
Likes: 0
Received 0 Likes on 0 Posts

---
Started with a 77 XLH about 14 years ago. Bought an 2005 Low Rider in Sept of 2004. I love the bike, but I have to sell it. The riding position is not comfortable for me anymore after I got a back injury at work. Last year, I had my first crash when a neighbor turned left into her driveway in front of me while on the phone. I tried to turn and go around her, but I had to really hit the brakes to keep from hitting her. I am sure I do not have to tell you about turning while braking hard. I went down and broke my left leg. Also got some real nice road rash. My leg is still not 100%, so between my leg and my back, I am gonna hang up my motorcycle helmet for a while. As soon as I can sell my Harley, I can start looking for a JK and get back into 4x4. I will maybe get another bike, maybe a Road Glide, when I retire in 15 more years.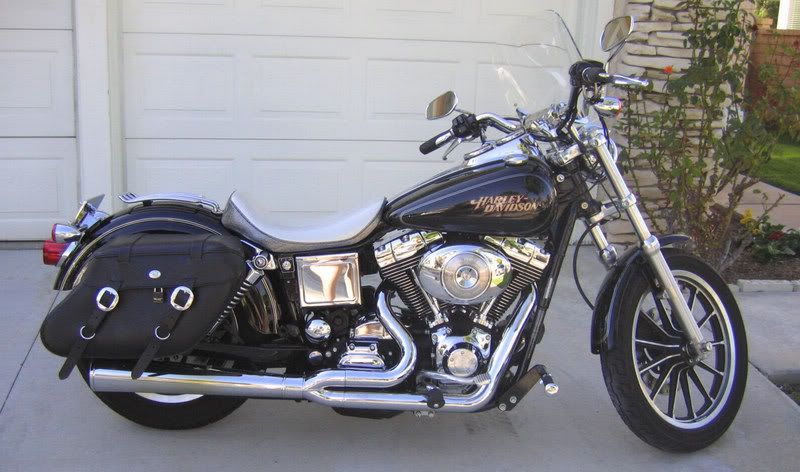 07-12-2007, 03:46 AM
JK Newbie
Join Date: Jun 2007
Location: Tamborine, Queensland
Posts: 3
Likes: 0
Received 0 Likes on 0 Posts

---
Yep have been a motorcyclist all my life. Have had Ducati's, Suzuki's, Honda's and Kawasaki's.

I work in the motorcycle industy and now race. I have a current spec Yamaha R6 Superstock.

Matt

07-12-2007, 04:28 AM

---
I think motorcycles look like they'd be a blast to ride but...

yeah I work for the fire dept. and have seen some nasty nasty nasty stuff. I like full-size vehicles and heavy duty bumpers for that very reason.

07-12-2007, 04:34 AM
Eternal ***erator
Join Date: Oct 2006
Location: Niagara, New York
Posts: 18,270
Likes: 0
Received 0 Likes on 0 Posts

---
I have been riding since my Dad bought me a minibike when i was 10.
I have been through a lot of bikes. No Harleys... yet. But i love them. the new V-Rods are SAWEET!
I started out with dirtbikes ~84 CR250, a couple of XR's, moved on to some crappie cheap streetbikes. If i can recall them all correctly: '79 Honda CX500 Custom "kneeburner" (what a topheavy turd) A junk Nighthawk which never really ran right, two Magnas (Loved my '87, still miss it) an '88 600 Ninja (WHADDA PIECE OF RATTLETRAP SHIT!!! I couldnt sell that hunk of junk fast enough.)
2 Interceptors. (I like them, they are my personal favorite in that style of bike, but they are between sport and cruiser, and I am an idiot, if it'll go 160, i'm just about dumb enough to see if i can get it past that.) my last "street" bike was a 2003 Suckzuki GSX-R 1000.
I dumped the fast cars, and fast bikes. Traded the GSXR death missile in on my enduro, sold the Camaro & my pickup for the JK. Life was going to fast & i was headed for the end of mine quickly, so I nixed that lifestyle and I couldnt be happier.
Currently have the Honda '06 XR650L. Modded the bejeesus out of it. I have it set for dirt now, but can flip it to supermoto in about an hour. I get to ride trails most of the way to work, and do so usually whenever possible. My enduro is my daily driver whenever the weather allows it.

07-12-2007, 05:20 AM
JK Super Freak
Join Date: Apr 2007
Location: Springfield, Oregon
Posts: 1,037
Likes: 0
Received 0 Likes on 0 Posts

---
Started riding a 1964 Greeves when I was about 10. Started racing motocross for several years in jr. high and high school.
Then in 1990 I started racing again and after winning some local Championships I had to give it up because of my back. So I retired as the 1995 OT Champion. I was racing a honda CR500 and a tricked out honda XR628 (this bike would do 120mph all day long. not bad for a dirt bike huh?)
Other bikes that I've own and raced 250 Kaw, yam, Suz. I raced mostly the Open class, I love power.

07-12-2007, 05:41 AM
JK Enthusiast
Join Date: Oct 2006
Location: 4 hours north of Hockey Town
Posts: 160
Likes: 0
Received 0 Likes on 0 Posts

---
I learned to ride on a 175cc Bridgestone. Then I got hooked on Moto Cross
and ended up owning about 10-12 Suzuki RM 125 and 250's. Had one
road bike, I think it was a GS750. Worked at a local cycle shop for the few
years that cycles dominated my life. Great times for sure :toung: