Penny for your thoughts? RC's empoyee music video....

01-21-2013, 08:43 AM

Penny for your thoughts? RC's employee music video....
---
One of my coworkers and friends Tyler Grooms is in a band called Static Revival. Tyler writes all of our press releases and descriptiosn. His band jsut shot their first music video. I thought I would share it with you. Give you guys a little peep in the RC marketing departments talent pool.
http://youtu.be/BOgL56xN6SI
---
Last edited by Rough_Country; 01-21-2013 at

09:08 AM

.

05-12-2019, 07:35 AM
JK Jedi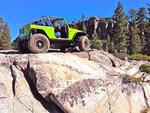 Join Date: Oct 2010
Location: Southwest Reno, NV
Posts: 5,181
Likes: 0

---
Delete the rear spare tire carrier and carry a plug kit with on board air. You can always just throw the same in the back for those hard days of wheeling. Realisticly how often do you actually damage a tire so bad you need to replace it. You also save a couple hundred pounds that you would be carrying on a daily basis, have better visibility to the rear, and have more room in the garage without a tire in the way.