CB Battery connection

07-09-2018, 02:33 PM
JK Freak

---
To the battery. I would use an SPOD only for high Amp circuits that need a relay. Technically I'd never put an SPOD in my Jeep to begin with, but that's a different story.

Anyway, why spend all that money for a 2 Amp circuit that can be hardwired and controlled by the CB's power switch, or controlled by a 15 Amp Contura switch?

02-20-2019, 07:35 AM

---
Wiring a cb in, over the rv mirror, what is the best power source, location to wire into.
i haven't looked at any wiring on the jk, fuse box, relay center or anywhere else yet, had thought about splicing into the cigarette lighter plug.
Anyway, where do y'all usually tie into for power

02-27-2019, 11:27 PM
JK Enthusiast

---
The best practice for powering a two-way radio installed in a vehicle is to connect it directly to the battery. This provides the best means to prevent interference in your receiver (and perhaps while transmitting if your alternator makes noises). Don't forget that a fuse needs to be placed inline as close to the battery as possible (on the positive side) in addition to the fuse that is likely already part of your power cord.

OnBelay Said: Technically I'd never put an SPOD in my Jeep to begin with, but that's a different story.

I'd be interested to learn more about the rest of the story On Belay.

03-01-2019, 02:06 AM
JK Jedi Master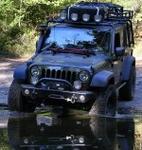 ---
Karin--A lot of folks use this harness. It's a pretty easy install with some minor tearing into the dash. And, it gives you an easy way to have your radio be switched off with the ignition. FYI, I've wired mine direct to ignition switched wiring by the heater controls (this harness didn't exist back in the day).
From AO, Ray has his wired through the sPOD, James and Matt use this harness on their Jeeps. James and Matt have never indicated experiencing radio frequency interference. Ray has some background noise when he turns on his aftermarket inverter mounted in the cargo area of his Jeep (which is wired direct to his aux battery). Truly, when working with RF, it's just FM--frickin' magic. You can't ever be certain what's going to happen.
https://www.quadratec.com/products/9...YaAjVpEALw_wcB
---
Last edited by Mark Doiron; 03-01-2019 at

02:12 AM

.