Coax length

02-20-2019, 04:14 PM
JK Enthusiast

---
I think you'd be fine if you cut it to length. Re-read Mark's post about that. I intend on cutting mine to length. I happened to score 20' of some high end coax for free from our local avionics shop. Only problem I may have is cable size with the PL259 connectors, might take some creative adapting or slight trimming of the dielectric.

02-22-2019, 11:27 PM
JK Jedi Master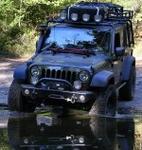 ---
If I understand that correctly, you just need the correct reducer adapter ...
https://www.americanradiosupply.com/...YaAnpnEALw_wcB
To be certain, you have RG-58 or some other 52 ohm coax, correct? I've found 72 ohm coax surprisingly easy to get since that's what many cable TV systems have used for years. But you wouldn't want to use that for a typical Jeep install.