TheDirtman - April 2019 Winner

04-26-2019, 09:21 PM
JK Jedi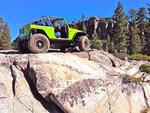 Join Date: Oct 2010
Location: Southwest Reno, NV
Posts: 5,195
Likes: 0

TheDirtman - April 2019 Winner
---
Cut up to allow for 7" of up travel.
Heldarodo Moab
At home in Nevada
TheDirtman or Tom
Reno, NV
2007 JK Wrangler Sahara Silver changed to Gekko Green
Stock options: AM/FM CD radio, 6 speed man.
Modifiacations:
Custom air intake
dana 60 front axle ARB 35 spline
dana 80 rear axle ARB 40 spline
5.38 Gears
Custom long arm double triangulated rear suspension
Custom long arm 4 link with pan hard bar front suspension.
combination of johnny joints, metal cloak, ballistic, synergy, and heim joints.
Custom high steering.
Rock Monster double bead locks 8x6.5
18" travel 2.5" king coil overs with 18" triple bypass shocks.
King hydraulic bump stops
Atlas 4 speed transfer case 2.7:1, 3.8:1, and 10:1 ratios
Custom cage
custom PRP Podium seats
Genright 20 gallon fuel cell.
Custom aluminum fenders
Cut and deleted front and rear bumpers
Warn 9.5Ti winch with synthetic line
Rugged Radio
Cut and hacked to allow for massive suspension travel. Hundreds of hours cutting trimming and designing. I should have just built a buggy.
I would like to try out the new BFG KR3's Plan on chaining out my transfer case yokes for flanges.
---
Last edited by TheDirtman; 04-27-2019 at

06:10 AM

.

04-26-2019, 11:10 PM
Super Moderator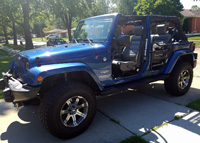 ---
I'ld have to think you may have an easier time listing what is stock on that beast!
The Dirtman Non-mod list
- Rear tailgate handle
- Radio antenna
(done)
P.S. Cool Video! How did you video that? Someone have a drone?
---
Last edited by Rednroll; 04-26-2019 at

11:35 PM

.

04-27-2019, 06:42 AM
Super Moderator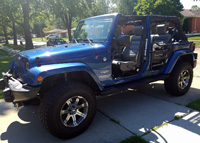 ---
Very cool. I've been looking into getting a drone recently. I have one now but it's more of a toy and have been thinking of stepping up and getting one that takes better quality video and more professional features. I've been looking at the ones which have the "follow me" feature where it basically follows wherever you have your smartphone. That way I wouldn't have to rely on having someone else there to do the video recording for me. You basically drive with your smartphone in your rig and the drone follows you everywhere you go.
I've been watching a lot of videos on Youtube by a guy named Ken Heron who is a pro drone video guy and some of the drone footage he takes is fascinating.
---
Last edited by Rednroll; 04-27-2019 at

06:56 AM

.

04-27-2019, 10:18 AM
Super Moderator