Arb fridge question

04-07-2019, 02:35 AM
JK Junkie

---
Why not look up the dimensions? The 37qt fit very nicely in the back of a JKU and ok in the back of the JK with the rear seat removed. It'll change the way you travel.

04-10-2019, 09:48 PM
JK Jedi Master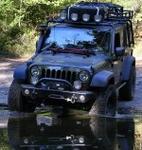 ---
A 50-quart barely fits. I've read here on JKF that a 63 can be squeezed in, but have a friend who bought one, then found out he couldn't fit it into his JKU. So, go figure. Regardless, the 50, lengthwise, will barely fit, leaving just enough room at the top rear to not quite hit the rear seat (that leans back a bit, which is why you don't want to just measure the floor in that space). Looking at Amazon for you (thank you, now they'll nag me for the next six weeks to buy a fidge I don't need), here is a comparison of the dimensions:
50-qt Exterior Footprint:
27.75"L
x 14.96"W x 20"H
82-qt Exterior Footprint:
33.27"L
x 17.72"W x 20"H

The width is not a factor. The height is identical. But, you're trying to stuff an additional 5-1/2 inches of length. It will contact the rear seat, and you won't be able to close the tailgate. You should be able to fit it if you lower the rear seat (Should: Means I don't know for sure--something else may become a problem, such as no way to secure your slide for it). Or, maybe you want to fit it in sideways with no slide, which should work, though awkward to use.

Honestly, building up the rear, with a fridge slide, drawer(s) and a shelf makes your camp life a lot better. But it takes careful measurements, and maybe some custom crafting, to make the best possible use of the area. Don't just buy something because the price is right. Have a full design in mind, and work toward that goal.

00:33 if not forwarded automatically ...