Winch won't freespool? Please Help...

04-12-2012, 12:48 AM
JK Enthusiast
Join Date: Nov 2009
Location: Christchurch, New Zealand
Posts: 325
Likes: 0
Received 0 Likes on 0 Posts

---
Tigerz11 have a new clutch lever that they call 100%engagement. Different setup from sliding ring gear. Lever goes all away around with every 90 degree notch alternating between engaged and free spool. No need to worry about teeth not lining up etc.

04-13-2012, 04:44 PM
JK Enthusiast
Join Date: Apr 2011
Location: Cape Coral, Florida
Posts: 156
Likes: 0
Received 0 Likes on 0 Posts

---
i used my gun cleaner spray (winchester powder blast), gave it a couple of minutes and i was able to free it with no force. Nice to know my hobbies can cross paths lol. I guess checking the lever often would be a best practice.

05-10-2012, 04:04 AM

---
ugh... just found out last night that my XRC8 won't freespool either. i have managed to at least get it to wiggle after some penetrating oil and some tapping on the case around the lever but still wont engage the freespool. hopefully over the next day or so it will free-up because if i have to take it apart to fix it, i will have to take my whole bumper off to do it...and i dont wanna do that...lol
im kinda wishing i spent the cpl bux on a cover for it now...lol.
not really the first post i wanted to make on here

05-10-2012, 04:12 AM
JK Enthusiast
Join Date: Oct 2008
Location: TX
Posts: 464
Likes: 0
Received 0 Likes on 0 Posts

---
Originally Posted by karls10jk
How much was the extreme warranty? I just bought my xrc10 from Bryan about 3 weeks ago now, maybe I can buy it and add it on since I haven't even made a pull on it yet.
$25 bucks each!
Bought 2 of them (XRC8s though) on different dates and different shops. One from 4wheelparts/4wd online and another at an actual 4wheelparts store.
---
Last edited by sclan; 05-10-2012 at

04:15 AM

.

12-05-2018, 10:59 AM

---
Sorry to revive a long dead thread but I'm having the opposite problem, I cannot get my winch to spool "out" under power with the remote. I was wondering if any one has had a similar issue? I bought a the XRC Gen 2 9,500 on Black Friday and installed it with no issues. Everything worked great when I did a quick test with the in/out on the remote to check if I wired everything correctly. The next day I went to practice using the winch and had no issues with free spool and spooling in but when I hit spool out on the remote nothing happened (not even a click from the solenoid).
I've been in contact with Smittybilt and tried the winch motor and battery troubleshooting test as directed and the results led us to believe it was a solenoid issue. They sent me out a new solenoid and after installing it there has been no resolution to my problem. I'm thinking it's a remote issue, any one have any other ideas? Does anyone know a way I can test the remote without using another winch or remote (I don't have any friends with this winch)?

12-07-2018, 10:35 PM
JK Jedi Master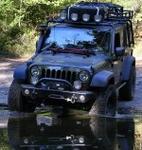 ---
---
Last edited by Mark Doiron; 12-07-2018 at

10:39 PM

.