Expedition Modded Jeeps - Let's see 'em!!

06-09-2011, 12:04 PM
JK Freak
Join Date: May 2010
Location: Surrey, UK
Posts: 802
Likes: 0
Received 0 Likes on 0 Posts

Expedition Modded Jeeps - Let's see 'em!!
---
There are many rock-crawler modded JKs on here, which is understandable but who's modding their's for expedition type travel and long haul trips?
I'm preparing mine for the above and am having a custom safari roof rack, winch bumper (LOD mid-width) and Wartn M8000 winch mounted over the next couple of weeks. Who else is preparing their's for similar? Here's mine so far:

06-09-2011, 01:49 PM
JK Jedi Master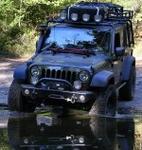 ---
Give me three days in the wilderness over playing on the rocks for a few hours any week of the year ...
12/12/12 Edit: Image links were broken. Replaced images.
---
Last edited by Mark Doiron; 12-12-2012 at

10:24 AM

.

06-10-2011, 12:21 AM
JK Jedi Master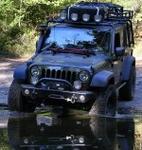 ---

06-10-2011, 12:25 AM
JK Junkie
Join Date: Aug 2010
Location: Houston, Texas
Posts: 2,908
Likes: 0
Received 0 Likes on 0 Posts

06-10-2011, 12:31 AM
JK Super Freak