What was done to your JK this week?

01-06-2011, 08:08 PM
JK Enthusiast
Join Date: Oct 2010
Location: Lugoff, SC
Posts: 358
Likes: 0
Received 0 Likes on 0 Posts

---
--Put on the XRC8 winch
--Put on the RRC Stinger
--Learned that XHD bumper has to come back off or sway bar dropped from frame to put new factory fog lamp in.
--Last week I done the XHD rear
--Wired the 5 KC's to the RRC uppper section of the light bar to mil-spec standards
--Tomorrow is the great recall trip to the dealership
--When I get home I am going to start the wiring for the lowers of the light bar, try to get all the inside done
--Saturday is light bar install except for switches, the daystar panel is being shipped and will not have until next week
P.O.O. (parts on order)
Crager 15X10 wheel for test to insure fit before I order the rest
Daystar lower switch panel
Teraflex 1" spacers to compensate for the weight on the front
Parts needed to order
4 more wheels if they clear properly
Adjustable rear track bar
Rear Adjustable 4 link bars...(missed them on previous order, will do tomorrow)
The to do list.
Install light bar
Install daystar panel ( arrives Monday)
Check wheel (arrives Tuesday)
Install lift...sooner or later, still milking the factory tires for every mile...

01-07-2011, 05:09 AM
JK Enthusiast
Join Date: Oct 2010
Location: Louisville, KY
Posts: 269
Likes: 0
Received 0 Likes on 0 Posts

---
In 2001 I traded my 98 TJ daily driver for a 2001 Nissan Frontier Crew Cab. Loved the truck but always regretted not keeping the 98 TJ as a 'recreational' vehicle.

So much so that in 2005 I ended up picking up a 99 TJ to have as my weekend ride.

Really sad part? The 98 TJ I traded for the truck had under 40K miles on it, was in perfect shape, well maintained and a great looking Chili Pepper Red / Tan Top Jeep. When I was shopping for my 99 TJ in 2005 I ran a Carfax on my old 98 that I traded and it showed that it was totaled while still titled to the dealer a few weeks after I traded it.

01-07-2011, 04:25 PM

---
Hi-Lift Jack + River Raiders Hood Mount + Smittybilt Seat Covers
(
front and back
)
4wheelparts has a deal right now - Buy the Front Seat covers and get the Rear ones free on the Smittybilts!!





01-08-2011, 12:57 AM

---
Just picked up my Jeep from an auto body shop to get the hindges repaired. All the hindges had the bubbling paint/rust issue. At first Chrysler denied the warranty work to have all the hindges replaced per the body shop. Instead Chrysler said they would approved the work to have them bodyworked & repainted....

01-08-2011, 01:21 AM
JK Junkie
Join Date: Aug 2010
Location: Houston, Texas
Posts: 2,908
Likes: 0
Received 0 Likes on 0 Posts

---
I had to re-do the grill mod, not because of the material used but more my error I didn't let the glue sit long enough and some of the anchors came off. On the flip side while I had the grill of I found one of my rachet wrenches wedged between the radiator and the grill.
*** not to shabby looking pics considering I used my phone to take them ***
---
Last edited by Sapper12b; 01-08-2011 at

01:24 AM

.

01-08-2011, 08:15 AM
JK Freak
Join Date: Nov 2009
Location: Springboro, OH
Posts: 526
Likes: 0
Received 0 Likes on 0 Posts

---
[QUOTE=kingkong;2021956]put on the winter shoes, AEV beadlocks with BFG M/Ts and took the doors and roof off.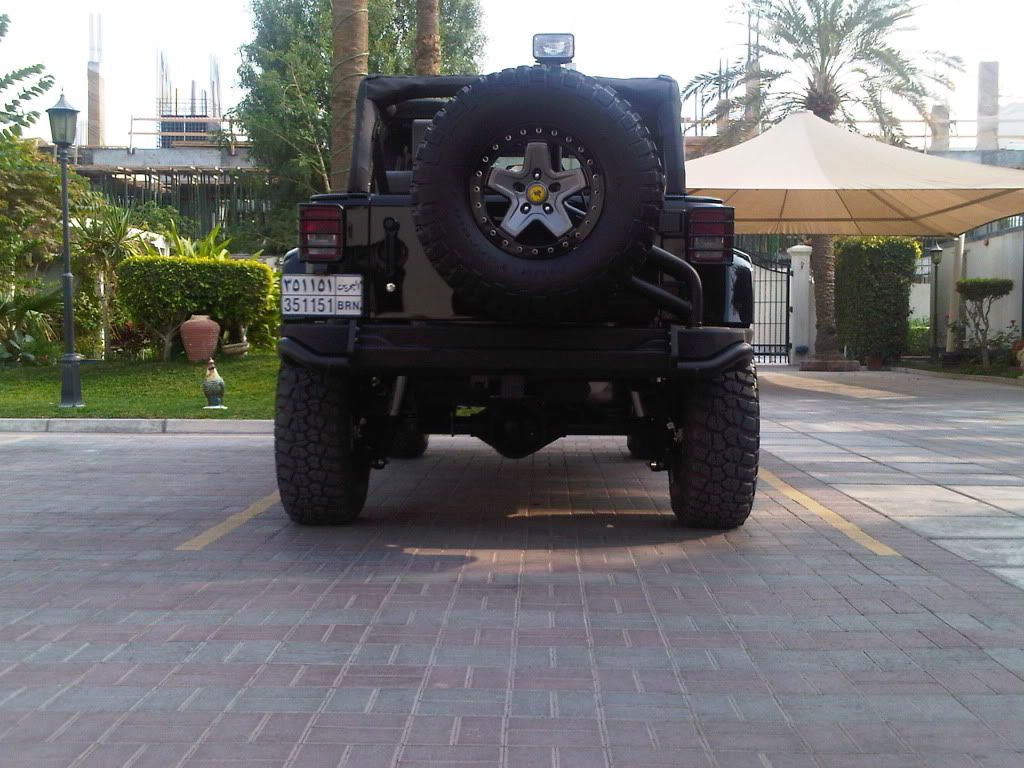 Did you paint the ring on your beadlocks? I like them and may do that myself?