AEV 2.5 Suspension

01-22-2019, 07:41 PM
JK Newbie
Join Date: Jan 2019
Location: California
Posts: 1
Liked 0 Times in 0 Posts

AEV 2.5 Suspension
---
I am thinking about putting the AEV 2.5 suspension on before either 33ís or 35ís. Your thoughts on this suspension pack over others like Teraflex? Also, Iíve been thinking of a budget boost if I decide on 33ís...looking for your thoughts on that as well. I plan on changing the fenders shortly after, but itís a two mile commute work Jeep thatís really going to be used for winter snow trips and summer camping. Share your wisdom!

01-22-2019, 11:59 PM
JK Jedi Master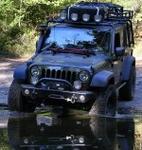 ---
Welcome to the forum. We have a sticky about lifts. Recommend that you start there ...
https://www.jk-forum.com/forums/modi...-lifts-288269/
To cut to the quick, if you're going to use your Jeep as a Jeep, then skip the budget boost and put a proper coil lift on. As for fenders, the best looking ones are the OEM ones. I place swapping out fenders (unless you have clearance issues, which you won't with 33s or 35s) right up there with chrome: It don't get you home. Of course, beauty is in the eye of the beholder, and obviously a great many folks must think various aftermarket fenders look better. You can see a few photos of my build in this video ...
If you have questions about it, they are probably answered in the ten discussions of it that I have at the end of each of these videos. A full list with direct links to those discussions is in the playlist description: Click SHOW MORE to read the entire list ...
https://www.youtube.com/playlist?lis...EJQ5g1Rxg6lELx

01-23-2019, 08:13 AM
JK Jedi

---
You'll get a lot of varying opinions on brands. You'll find some brands that are typically bashed, some brands that are always highlighted, and some that fall right in the middle. AEV definitely has a following, and many love their lifts. Could say similar things about TF as well. There are definitely worse out there than both of those. One could argue there are also brands out there better than those, but that might not mean better for your specific use. From the little that you said, I'd say AEV might be a good option for you.

That specific AEV lift does not come with caster correction. You might consider adding some $105 control arm brackets if you go with that. You also might consider adding an adjustable front track bar. When you lift, you're axle will probably be shifted .25 - .50" to the driver's side. This may or may not bother you.