D Ring Shackles and rusting

01-11-2018, 11:30 AM
JK Junkie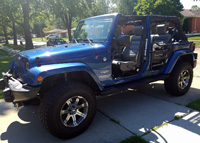 ---
Apparently thread powder coating cost more. You'll have to pay extra for that and get the good ones like my $8-$10 HF shackles.

In all seriousness, I'm actually pretty impressed with the nice powder coating on the HF shackles.

01-13-2018, 03:18 AM
JK Jedi Master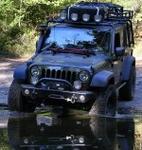 ---
You're putting pressure on the strap in a way for which it was not designed. I sure wouldn't do that just because the consequences of a failure could be injury or even death. Since you're that concerned about scratching up the shackles, I'd recommend some synthetic winch line ones such as these ...
https://www.summitracing.com/parts/t...waAvzqEALw_wcB

02-02-2018, 02:18 PM
JK Newbie
Join Date: Jan 2018
Location: Southeastern, AZ
Posts: 11
Thanked 0 Times in 0 Posts
$7.83 Good Deal on forged 3/4" 9.5K lb D-Ring shackle w/isolator
---
Home Depot s3/4" shackle w/isolator pads $7.83
If rusting is a concern, you can pay more for hot-dipped galvanized shackles and keep the threads greased. Also the other suggestions posted above work (powder coat, paint, protective film sprays, etc). As far as theft that's a hard one. You can crank down the screw bolts with wrench and discourage casual thieves but determined ones will steal them.
We just keep our shackles and straps in a winch tool bag and avoid the theft and weathering/rusting. We also sometimes put the shackles on, on prior to trail runs, to be ready to assist or be assisted. Additionally Jeep club members often mount and then drape their pre-configured straps over the rear mounted spare for a quick tug (to give or receive).
Didn't believe this was worthy of a new post on its own - - - but saw these plated shackles at the Home Depot home center that included red shackle isolators/pads for $7.83 each, the price you typically see bare 3/4 inch shackles or a pair of isolator/pads going for alone...
https://www.homedepot.com/p/Husky-3-...4535/206967330

02-05-2018, 09:02 PM
JK Newbie
Join Date: Jan 2018
Location: Southeastern, AZ
Posts: 11
Thanked 0 Times in 0 Posts
---
Home Depot typically stocks 6-8 units on the shelf. I wasn't thrilled to pay about $7 with shipping for some shackle pads alone a while back. This is a good price.
And for those who only got one D-ring shackle in their more recent Mopar/Warn "Jeep Trail Rated Kit" that comes with new Jeeps (unless someone at the Dealership copped it) here's a chance to get a 2nd shackle, always better two than one. The earlier Jeep Trail Rated Kits included two shackles. This video explains the kit you should have received with your new Jeep....