Hard top hoist

05-16-2019, 01:37 PM
JK Newbie

Hard top hoist
---
I'm not in manufacturing or selling, but if someone was, I think a good idea would be a receiver hitch mounted hoist that pivots, put a bracket or sling to hold and secure the hard top, crank it up, pivot it around and lower it to the ground, even a small electric winch mounted on it would be nice. Could even be in a couple of sections or Incorporated in a receiver hitch rack. Kinda like a deer hoist, but with a longer arm to center the weight.
It would make it easy to remove and install a hard top without needing an extra hand

05-18-2019, 07:55 AM
Super Moderator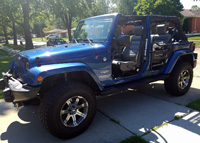 ---
Nice idea! I'ld definitely be interested in having a setup like that rather than some of the floor standing setups I've seen.
I've kind of started putting a vision together in my head based off of your description. The biggest challenges I've been thinking of is that the hoist would need to go pretty high up since the bottom of the hard top would need to be raised high enough to clear the tops of the roll bars. Then once you got it raised that high, what to use as a nice and sturdy swivel. Might have to look into some engine hoist designs to get some good ideas for the swivel.
This is a perfect idea for this thread I started:
https://www.jk-forum.com/forums/modi...-exist-349978/

05-22-2019, 05:11 PM
Super Moderator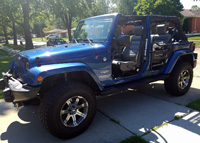 ---
Yep, seems in the ball park. Just took some quick measurements.
4'6" =top of hitch receiver to top of roof.
2'4"= bottom of roof to the top.
Puts you at 6'10" min height.
Then take into consideration you're gonna need some clearance for some type of T brace to hold/balance the roof. Then the pulleys and cable hanging under that somewhere to raise/lower the T brace. Probably puts you around 7'6", closer to 8' for good measure on the back brace arm.
Make it so that arm splits into 2 pieces since carrying an 8ft pull around and storing it would be a pain. At that split point you could make some type of swivel which allows the top part of the arm to rotate and holds the arm together at the same time. Which is the part I'm struggling to come up with a good solution. I've been thinking along the lines of a 2in+ dia chain link fence, water, or gas pipe since they're inexpensive and you may be able to fab something starting from a fence pipe coupler.
Start drawing it up. #Patent_Pending.
---
Last edited by Rednroll; 05-24-2019 at

01:15 AM

.