I Need help please

12-11-2017, 07:55 AM
JK Newbie
Join Date: Dec 2017
Location: Bahrain
Posts: 1
Likes: 0
Liked 0 Times in 0 Posts

I Need help please
---
I just bought new wheels for my 2014 jeep wrangler and it has these specifications;
Size 17x9
Offset -12 mm
Center bore 78 mm
Im considering to go with 285/70r17.. so I was wondering will it rub? and do i need spacers if itís rubbing? Or shall I go with 265/70r17 tires and have no issues.

12-11-2017, 08:04 AM
JK Jedi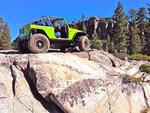 Join Date: Oct 2010
Location: Southwest Reno, NV
Posts: 5,119
Likes: 0

---
You should be fine with that wheel tire combo. At extreme articulation with the sway bar disconnect you might rub the fenders a bit but on all other driving you should be fine. If anything you simple add 1" of bump stop to your set up.