jk lift kit

06-14-2018, 07:22 PM
JK Newbie
Join Date: Jun 2018
Location: Roseville, Ca
Posts: 1
Thanks: 0
Thanked 0 Times in 0 Posts

jk lift kit
---
I have a 2014 Rubicon unlimited and I want to raise it high enough to accommodate 37" tires I have been looking at the Rubicon express lift kits but have found the EVO kit and really like the long arm application as it keeps the center of gravity low has there been any problems with the EVO long arm kit?

06-14-2018, 08:22 PM
JK Junkie
Join Date: Dec 2010
Location: Hampton Roads, VA
Posts: 3,374

---
You want 37's and a low center of gravity with (obviously) a budget in mind. Go buy the metalcloak fender flares. You'll retain your center of gravity, fit 37's, and avoid running into changing out your new lift kit with more and more parts. The kit doesn't address other issues that you should like brakes, steering, gearing, etc.

Best of luck with the build.

06-15-2018, 08:01 AM
JK Junkie
Join Date: Jun 2013
Location: Willow Park, TX
Posts: 3,927

---
There are just so many things here. What makes you think that a long-arm kit is keeping the center of gravity low? If you're lifting the jeep high enough to need a long-arm kit, you are by nature jacking the center of gravity up a lot. The long arms are just helping out with your geometry that gets all out of whack with higher lifts, they're not helping with center of gravity. Everyone wants a big lifted jeep with big tires, that looks aggressive and performs like factory on the road.
In all honesty, you need to determine your budget, and then most likely double or triple it. Get a quality lift with full set of control arms, replace all steering (probably adding high steer kit), upgrade brakes/brake lines, get proper BS wheels, regear, programmer, C gussets at the very least. Assume you're lifting high enough you'll need to address front DS. If you haven't upgraded axle shafts yet, plan on at least the rears as you'll bend the factory flanges. Using arms to move your rear axle back to accommodate the 37s will force you to address your rear sway bar, which will probably make you address your muffler/exhaust. That should at least get you started down the path......

06-15-2018, 08:12 AM
JK Jedi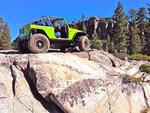 Join Date: Oct 2010
Location: Southwest Reno, NV
Posts: 5,084
Thanks: 0

---
You should check out Metal Cloak They are in Rancho Cordova right by you. They have one of the best riding kits out there. A long arm kit is nice but most long arm kits out there have issues, mainly with clearance. Long arm kits tend to be expensive as well if you can't do the work yourself as they typically take 20-30 hours to install. Most short arm kits can be done in 8.

If money is no object and you are just going to drive on the road the long arms will give you a nice ride but it hard to beat a full metal cloak kit with their high clearance fenders for a great ride with LCG at a far lower price.