Let's talk impact wrenches and their torque specs

03-11-2019, 11:29 AM
Super Moderator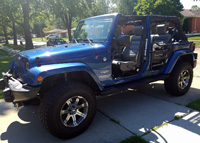 ---
Originally Posted by
icrashbikes
I'm really excited to read through this thread and I'm replying here now only so I won't forget. I've had an unbelievable time with the front diff pinion nut just trying to change the stupid seal. I bought an IR big-time, million-lbs-of-breaking-torque impact which just sits there and hammers away. Just like the battery impact. It's actually on my list to do within the next few days because I'm sick of parking over a drip pan and my garage smelling like gear oil. Thanks in advance for everything I'm gonna learn here as soon as I get enough work out of the way!
Replacing that seal has been on my tudo list for awhile. Mine's been leaking going on 3-4 years now but it hasn't seemed to have gotten any worse. If anything at this point, I'm considering the leak a feature. I don't need to drain the gear oil out of my front diffy to change the oil, I just keep adding to it when needed so I have a constant cycle of fresh gear oil.

03-11-2019, 12:38 PM
Super Moderator

---
I've often had the same/similar questions. Heck, it's hard enough to find decent (read objective and scientific) reviews of torque wrenches, let alone impact wrenches. At this point, I use Craftsman torque wrenches and I have a pneumatic impact wrench (an Arctic Cat -
Amazon
). All of which continue to do a great job going on 5-plus years. I did learn that you should always back your torque wrench off to zero after you use it. That alone will extend the accuracy and precision of the wrench.

03-11-2019, 03:50 PM
JK Junkie

---
Impact wrenches are neat tools to get into. I have a snappy 1/2" pneumatic as well as a snappy 1/2" electric impact. Both work well but the electric is what I try to save for the trail. The pneumatic just puts out stupid torque. I had a Husky pneumatic and it wouldn't touch anything torqued by a shit "garage".

But to put it all in perspective- I sold wheels to a guy who had not moved the wheels since '08 and I think that's when I shop put them on with max torque. The electric wouldn't touch it. The pneumatic wouldn't touch it. I ended up going to a 3' breaker bar on a snappy ratchet. So yes, "nut busting" torque is awesome but it isn't everything.


To come full circle, I'm seeking out a reasonably priced pneumatic that I can put in my trail bag now that I've got OBA.It won't do a lift kit but it should give me enough to set a track bar bolt without to too much hassle.

03-12-2019, 05:49 AM
Super Moderator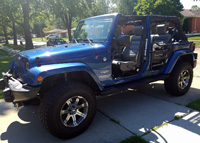 ---
I've always struggled with understanding the pneumatic impacts as well. More so on how to determine what size of air compressor to drive one of those. I'm certain my HF $35 air compressor is probably not up to the task. It seems it would be kind of like putting a 5V 1.0mAH battery on the Earthquake XT cordless impact I just got. It may spin it....just how much power behind it would it deliver? And how much air compressor is really needed so the pneumatic is able to reach it's full potential?
I've been toying around with the idea of picking up one of these air ratchets for those hard to reach areas.
https://www.harborfreight.com/38-in-...nch-68426.html
I saw an open box one of those a few weeks back for $30. I should have grabbed it to give it whirl but I really don't feel like starting to invest in air tools.
---
Last edited by Rednroll; 03-12-2019 at

05:54 AM

.

03-12-2019, 06:06 AM
JK Junkie

---
Air ratchets suck IMO. I have one and never use it. It's much quicker, quieter, and more powerful to use electric for those tasks, and even those tasks are limited. I use it for dash disassembly but nothing underneath or under the hood.

I can test my OBA with the snappy pneumatic and see how many lug nuts it'll take off, but I'm not looking to do tire rotations like this, maybe just swap a flat for someone on the side of the highway.

03-12-2019, 06:16 AM
Super Moderator

---
@Rednroll
- I'm pretty sure most pneumatic impact wrenches will specific what CFM and pressure they work best at... I think... as for a pneumatic on the trail, I have an ARB Twin and even with that, it's just eh... perhaps if I had a tank as well.
@karls10jk
- You're right on the air ratchets. I have a decent one (DeWalt 3/8") and it's nice when you're running a very long bolt in/out, it's loud as hell.... louder than my 1/2 pneumatic impact. I usually just end up using my electric driver with a socket adapter.

03-12-2019, 02:59 PM
JK Jedi

---
Most pneumatic tools run at way lower PSI than you'd think. This Earthquake should run at 90psi per the instructions, and I think most tools are generally in that 90-120 psi range. The problem usually isn't the compressor itself as much as the size of the tank. Something like one of those small pancake compressor/tanks you might use with a brad nailer just wouldn't keep up as a pull of the trigger would consume the pressure in the tank in seconds, and you'd constantly be waiting for the pressure to build back up. I have the DeWalt 15g electric air compressor, and it's been great for home use for probably a decade now. Previously had an 8-gallon husky. The other x-factor when you get in to pneumatic is hose length. Most tools probably state their optimal performance with only 25' of hose. Having said that, I imagine most people, like myself, are running their tools at way too high PSI cuz too lazy to constantly be adjusting the regulator.

I have a dual ARB. It's worthless for running tools. If a tank was added to the system it might be ok for short bursts, but you again get in to the size of the tank really being the determining factor on what you can or cannot do. I mean, it's enough to run an air ratchet maybe, but as noted, those aren't worthwhile at all. In regards to torquing a TB bolt or whatnot on the trail, it's easier to just break out a 2' breaker bar or torque wrench. I have a 2' crescent wrench as well for odd things like a CA jam nut should it be needed. My compressor is nothing but a pricey tire inflator, but I wouldn't trade it for the world. It gets a ton of use.

The one area on the JK I've found an air ratchet to be useful is the rear bumpstops, especially if you have adjustable ones (like MC). There's not much space to get in there, and the air ratchet makes things a bit more convenient. Other than that, I might use that tool once a year. Not worth it IMO unless you find one for $5 or something and have all other necessary components already.

So.....as you said above, when removing something, safe to let it rip IMO. When tightening, be very careful. If you saw that other thread about wheel studs breaking off.....pretty certain this impact was the cause of my broken wheel stud.....and I was being pretty careful. I always just snug a tad and then finish with torque wrench. This impact has a lot of power, and even being careful I made a mistake.

03-12-2019, 03:49 PM
Super Moderator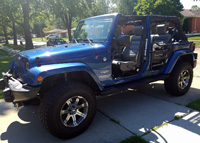 ---
Thanks for all the insight on the air tools. I just have this HF 3 gallon compressor.
https://m.harborfreight.com/air-tool...sor-97080.html
It comes in handy for my uses which has been dusting/blowing stuff off, filling tires, Heater core backflush.
I have a nice travel bag of hand tools for my JK. Even if I had an air system strong enough on my rig, dragging the hoses around the rig seems like a PIA. I tend to lean toward the AC electric and battery op tools instead if a power tool is needed. I picked up one of these 3000W AC inverters for $35 when HF had a clearance sale and were changing brand names and have 2 awg wire to connect it to my battery.
https://m.harborfreight.com/3000-wat...ter-63430.html
I kind of figured I'ld be able to power most any corded tool with that thing if needed using my battery and it likely costs 100 times less than an equivalent onboard air system I would need to power an equivalent air tool. So far just tested it with my $40 HF corded impact removing lugs and it stood strong. Figured it be a good camping convenience as well.
I always struggled to understand why a lot of Jeepers look to build onboard air systems for air tools when we have an alternator which can put out close to 2000 watts of power and batteries to provide even more if needed.

03-12-2019, 04:11 PM
JK Jedi

---
I think that most of the time, people are trying to make as much use out of their OBA as they can, even if it means going through more cost and effort than it's worth. My opinion at least. Where I think that idea falls short is how often the system might get used for tools....which I have to think is VERY rare for most people. I know when I bought my dual ARB, that is the compressor I wanted for the 100% duty cycle and filling larger tires in the middle of nowhere. It was hard to swallow the price tag for that sole use. I would have loved to justify it with use of tools too, but with my rear storage trunk, I just don't have room to stick a tank, or should I say that I'm willing to stick a tank.....mainly cuz I see I just wouldn't use it. I think we've gotten in to this in older threads on this subject, and I've just come around to the fact that hand tools don't take that much longer, and are more reliable....and I always have the necessary things sitting in my "trunk".
I would be interested in hearing Karls set up. I don't recall what compressor he has, and interested to hear what tank if any is in the system, and what he can run with that.
I would say that I had a compressor that hooked to a battery before......and the duty cycle was a drag, which is why I went with the ARB. I also got tired of digging it out and storing it (I recall you're under the tub storage/system.....is that still working for you). I think you're inverter is a good idea....either for corded tools or for your battery charger for these cordless tools. Just means trucking more things along....which I guess gets back to the idea that hand tools take up less space and are reliable.

03-12-2019, 05:06 PM
Super Moderator

---
Exactly. The only reason I have an ARB Twin is that I found it on a shelf at a place called Bargain Hunt for $100... it was considered 'broken'... I bought it and ordered the two $8 parts from ARB and it's run like a champ since. Like you've said though, it's great for airing tires up with the 100% duty cycle, but it sucks at running tools. I keep looking for a good hand held 1/2" battery operated impact wrench.