Let's talk impact wrenches and their torque specs

03-12-2019, 06:17 PM
JK Junkie

---
I have the Viair 400c (33% duty) with 2.5 gal inner the hood. Mine was a steal from eBay so it was an easy choice for airing up tires. The hose I keep with the Jeep is small enough to fit under a seat yet long enough to reach all 4 tires from the front bumper. So while it isn't designed for running tools, I wouldn't mind testing it to see if carrying an impact is reasonable or if I'm burning precious space in the 2dr.

For the inverter- I run dual batteries so power is definitely available, but space is limited. The compressor mounted to the brake booster and the tank sits behind the fan under the hood. I have to maximize the real estate because I chose the 2dr and prefer to run with a rear seat, though resharp's trunk idea is still on the radar for the future.

03-12-2019, 06:24 PM
Super Moderator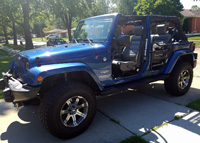 ---
Originally Posted by
resharp001
I think that most of the time, people are trying to make as much use out of their OBA as they can, even if it means going through more cost and effort than it's worth. My opinion at least. Where I think that idea falls short is how often the system might get used for tools....which I have to think is VERY rare for most people. I know when I bought my dual ARB, that is the compressor I wanted for the 100% duty cycle and filling larger tires in the middle of nowhere. It was hard to swallow the price tag for that sole use. I would have loved to justify it with use of tools too, but with my rear storage trunk, I just don't have room to stick a tank, or should I say that I'm willing to stick a tank.....mainly cuz I see I just wouldn't use it. I think we've gotten in to this in older threads on this subject, and I've just come around to the fact that hand tools don't take that much longer, and are more reliable....and I always have the necessary things sitting in my "trunk".
Yes, we had this discussion before in the past. That must have been right around the time you got the ARB since I remember you were telling a different story in regards to onboard air tools. LOL!
At least you can now tell the story speaking from a more experienced viewpoint and it reassures me my head was in the right place back then. Home working on the Jeep, yes I want the best/fastest tools with the most conveniences to get the job done. Out on the trail or road? I want the lightest/smallest set of basic tools that will help get me out of the situation I'm in. If that means it takes me an extra hour and a little more elbow grease, that doesn't really bother me, I'm not in a race with anyone or working for a pit crew. That other 99% when I"m not needing those tools and having to deal with all that extra clutter I can do without. Heck, when I was at the dunes this past summer I kept moving this heavy bag of tools around in the back to get to the food and beach towels. Everytime I had to move that bag out of the way, I had to scratch my head and wonder....if I actually break something out here, how the heck am I going to fix it with all these tools, and not having a replacement part or a welder in hand? So glad I didn't break anything to have to figure that out.
My dual HF high volume air pumps mounted underneath attached to the frame rails are still working great. I had to make a couple mod improvements to it this past fall. The good ole Michigan weather elements were taking their tolls. I had to repaint the exterior of the bodies due to rust was starting to get the best of it and they were looking bad, and the steal parts on the chuck ends rusted also where the clip was starting to get stuck due to the rust. So I got replacement quick chuck clips and painted the new ones as well as repainted the body of the air compressors with a nice gloss paint to combat the exterior rust going on.
---
Last edited by Rednroll; 03-12-2019 at

07:22 PM

.

03-12-2019, 06:48 PM
JK Jedi

---
This guy's video speaks volumes about running air tools with OBA. It just takes a considerable size tank, and at that point you're sacrificing a good bit of space. Look how fast that drill slows down, and then sit and wait for that tank to fill up again.

03-12-2019, 06:56 PM
Super Moderator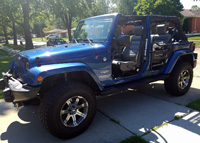 ---
The joys of living in the rust belt.
Air compressors went from this
to This....They're now "Jeep" branded. The Teraflex branding seemed to promote rust
So far been repainted and back on since last November and no more rusting with the Jeep branding.
The guy that changes my oil always gives me compliments on my air compressor mountings since he gets the best view of them standing under my Jeep.
---
Last edited by Rednroll; 03-12-2019 at

07:16 PM

.

03-12-2019, 07:15 PM
Super Moderator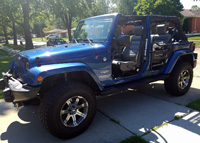 ---
Oh My Gosh!

That was a good laugh. I wanted to run up to that guy with my $25 open box Bauer cordless screwdriver/drill and say, "Dude check this out....and watch how long it will run without any hoses or a noisy air compressor running."
Now I understand why so many tend to get upset and defend their onboard air tool system setup. If you spend that much time, money and effort, and it's taking up that much space in your Jeep, no one is going to be able to convince them that their baby is ugly and it doesn't make a lot of sense.
---
Last edited by Rednroll; 03-12-2019 at

07:29 PM

.