Locking up a hard top when off

02-06-2019, 12:33 PM
JK Newbie
Join Date: Dec 2018
Location: Lufkin, Tx
Posts: 36
Thanked 0 Times in 0 Posts

Locking up a hard top when off
---
Just say you head out of town on a road trip, you get to the beach house or cabin and you want to take the top off and ride around, but not really comfortable about leaving your top, is there a way to secure it to keep folks honest?

02-06-2019, 12:47 PM
JK Junkie
Join Date: Jun 2013
Location: Willow Park, TX
Posts: 3,917

---
I'm not certain there's a great way to do this unless the destination has a garage or some enclosure to store it in. I hate soft tops, but this is one of the rare times I think soft tops become useful. Might be worthwhile to just keep an eye out for a reasonably priced soft top for such an occasion.

02-07-2019, 03:25 PM

---

02-09-2019, 06:18 PM
Moderator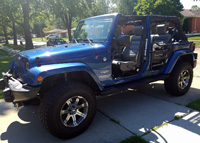 Join Date: Apr 2010
Location: SE Michigan
Posts: 3,747

---
Tie a pitbull to it would be your best bet. Other than that, if someone wants it bad enough they're going to take it. Really though, it's going to have to be someone with a pick-up truck and at least 2 people to lift it. It seems like a very unlikely scenario especially at a beach house.