Locking up a hard top when off

02-06-2019, 11:33 AM
JK Newbie

Locking up a hard top when off
---
Just say you head out of town on a road trip, you get to the beach house or cabin and you want to take the top off and ride around, but not really comfortable about leaving your top, is there a way to secure it to keep folks honest?

02-06-2019, 11:47 AM
JK Jedi

---
I'm not certain there's a great way to do this unless the destination has a garage or some enclosure to store it in. I hate soft tops, but this is one of the rare times I think soft tops become useful. Might be worthwhile to just keep an eye out for a reasonably priced soft top for such an occasion.

02-07-2019, 02:25 PM

---

02-09-2019, 05:18 PM
Super Moderator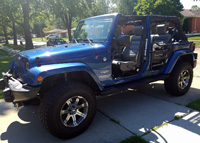 ---
Tie a pitbull to it would be your best bet. Other than that, if someone wants it bad enough they're going to take it. Really though, it's going to have to be someone with a pick-up truck and at least 2 people to lift it. It seems like a very unlikely scenario especially at a beach house.

03-05-2019, 03:38 PM
JK Jedi

---
I'm not a big, you live a jeep "lifestyle", or you don't, but to me this is just part of having a jeep.....have to throw a little caution to the wind. Soft top or topless, have to plan on some fool stealing what is left behind. Top off, have to plan on it being hot or it rains. I think the biggest thing is we see what it costs to replace something......others don't see the same value or they see a major pain to steal. There's a reason stone businesses don't have to lock up boulders at night....or pallets of flagstone.

Absolute worst case scenario in a situation like this is there is a theft, and it rains on the way home. Not the worst thing thing in this crazy world we live in.

03-06-2019, 05:06 PM
JK Newbie

---
Yeah, I guess I worry too much, insurance should cover most of it anyway if it did happen.
funny thing is, when at work or at home, or at places around home, I don't worry about it