Manual Transmission Gearbox Sound

11-10-2017, 10:50 AM
JK Newbie
Join Date: Mar 2017
Location: Somewhere, IL
Posts: 7
Likes: 0
Liked 0 Times in 0 Posts

Manual Transmission Gearbox Sound
---
I am in no way a mechanic. So I welcome your thoughts.

I have my first jeep, a new 2017 Wrangler Sport. Manual transmission. Only 7 months old. The past couple of weeks there is a very noticeable sound (kind of a "crinkling" sound) coming from the back left or right (it varies) when I shift from first to second or second to third. I depress the clutch, shift and often (but not always) hear the sound. It is loud enough to hear over the radio at normal volume.

It doesn't sound like the teeth of gears engaging or grinding directly under the jeep. It clearly comes the back left and/or right?

I took it to the dealer. They said it was normal gear box noise and said all is fine. But it didn't make the sound the first six months I drove the jeep.

The jeep drives fine. I haven't noticed any changes. Just the noise that started recently.

By the way, I mentioned that this is my first jeep. I waited too long to buy one. It is a ton of fun.

Any thoughts? Thanks in advance for your help.

11-16-2017, 06:47 AM
JK Newbie
Join Date: Mar 2017
Location: Somewhere, IL
Posts: 7
Likes: 0
Liked 0 Times in 0 Posts

Update on Manual Transmission Sound
---
Here is an update on the manual transmission sound that I can't figure out. If this additional information provides anyone with any thoughts or ideas, I would appreciate your insight as I mentioned that I am clearly not a mechanic.

My 15 year old son was riding in the back seat (2017 2-door Wrangler Sport). He says that it sounds as if the sound when shifting (as described in the post) is coming from the inside of the cabin -- over his head to the back left and right side -- as if from within the sport bars. From the backseat, he described the sound as, "it sounds like some ballbearing or marbles sliding around or scrapping for a second" when you shift. Out of curiousity, I tried shifting very slowly and gently without much movement in the jeep and the noise doesn't seem to occur.

I'm not sure what, if anything, is in the sports bars. Would this be a possible cause? Any thoughts or similar experiences to share?

Thanks.

11-18-2017, 12:25 PM
JK Freak
Join Date: Nov 2013
Location: Sweet Home, TX
Posts: 830
Likes: 0

---
Sounds can bounce around a bunch in a Jeep especially with a hard b to, the Jeep and see if you hear the noise. If it is through out bearing related, it will likely make the noise even when not actually engaging any gears, and will be coming from the bell housing of the transmission.

11-24-2017, 06:49 AM
JK Enthusiast
Join Date: Apr 2012
Location: Calgary, AB
Posts: 397
Likes: 0

---
I have noticed when the transmission is cold the shifts into 2nd and 3rd can grind a bit. Either the fluid isn't moving as well as it should or the syncros on those gears aren't as aggressive as the higher gears. Either way, there is a solid chunky sound in those gears when it first gets moving. After the fluid has had a chance to circulate and warm up it works well.

When it's cold, just shift slower if you don't want to hear it.

12-11-2017, 03:51 PM
JK Newbie
Join Date: Mar 2017
Location: Somewhere, IL
Posts: 7
Likes: 0
Liked 0 Times in 0 Posts

Mystery (sort of) Solved
---
I thought I would close the loop on the odd scratching sound story that I posted. I stopped in to the dealer without a service appointment the other day and I was impressed that the manager immediately hopped in the jeep and listened while I drove. He also heard a sound coming from the back right from within the sports bar.

They kept jeep overnight, took apart the roll bar (no idea how difficult that is), used a scope to look into it and pulled out with a magnet two loose nuts (as in nuts and bolts -- not the kind squirrels like) that were sliding around in there and echoing. Apparently, shifting the manual transmission caused them to slide around. I drove it home just now and the sound is gone so this must have been it. I have the nuts. I'm told by the service department that these do not belong to any part on a jeep (and, in fact, the edges are round as if something you'd tighten by hand rather than a wrench). How they got these and why they suddenly started sliding around -- I have no idea.

12-11-2017, 11:37 PM
JK Jedi Master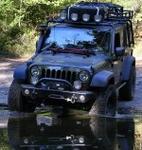 ---
Thank you for telling us the rest of the story. Back in the day I read the book "Wheels" by Arthur Hailey. I remember him writing about assembly line workers who'd throw a little bit of detritus into inaccessible parts of a vehicle on the assembly line--as a joke on the new owner. Sounds like you could have been a victim of that. Unless, of course, you were top off and there's some way someone could do the same thing to your parked Jeep.