Need help choosing soft top

04-08-2019, 01:51 PM
JK Newbie
Join Date: Apr 2019
Location: Tunkhannock, PA
Posts: 1
Likes: 0
Received 0 Likes on 0 Posts

Need help choosing soft top
---
I need a new soft top. I think my current one is the original. I want the same material, is black diamond the original factory material?

04-08-2019, 03:33 PM
JK Junkie

---
Black diamond is the factory material but the premium material is quite the investment if you can swing the extra bucks. Having had both materials many times on TJ's and JK's, I won't have another standard top. They seem to dry up and be tough to maneuver. The premium material cleans up nicer and works better.

04-28-2019, 09:40 AM
JK Newbie
Join Date: Apr 2019
Location: Charleston, SC
Posts: 1
Likes: 0
Received 0 Likes on 0 Posts

---
My wife has a factory black diamond top on her JK. I have a twill top on mine. It's night & day, and both of us recommend the twill if you can swing it, or if you can hold off & save up 'til you can. To answer your question though, yes, black diamond is the factory material. Good luck!

04-28-2019, 09:49 AM
Super Moderator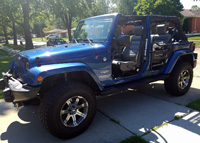 ---
I don't get to use my soft top as often as I would like so my factory diamond top is still fine. I have to make sure I don't ever try the ribeye, otherwise it will make me realize the tough piece of sirloin or probably closer to chuck steak I've been chewing on.
I know there have been changes in soft tops along the years, window size and such but are all factory JK soft tops interchangeable between model years? I may keep my eye out on CL for a decent deal on a ribeye
---
Last edited by Rednroll; 04-28-2019 at

09:56 AM

.

04-28-2019, 02:41 PM
JK Junkie

---
I think the window change was in 11, but if you find a premium top (13+ is when they were offered) then you're set. I'm running a 2015 soft top now and I have a 2018 in the closet for when I think this one has had enough wear.

04-28-2019, 03:21 PM
Super Moderator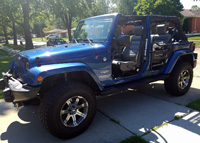 ---
Thanks Karl! I'm starting to think it would be a good idea to have a back up as well before these things start becoming hard to find. Just checked CL in my area, no premiums listed but I did see a Q-Tec diamond listed for $200, which seems like a great deal but I'm thicking I should hold out for a premium.