Rubicon or Sport

01-25-2019, 04:43 AM
JK Enthusiast

---
Originally Posted by karls10jk
Those are off of an earlier Sahara, correct. I'd be curious if they moved the TPMS over or just bolted those wheels on and traded it in.
Didn't think about that...I'll have to bring that up in negotiations. That and I really hope the spare doesn't match because I'll be using that as well lol

01-25-2019, 04:47 AM
JK Enthusiast

---
Originally Posted by JKUsport16
Man what a deep loaded question. Honestly if you plan on any trail riding I would
suggest a Rubicon. If the off-roading bug really bites you then a non Rubicon will
eat your billfold alive. A stock Rubicon with a lift can be wheeled for years on some
pretty good stuff including rock crawling. BTW Rubicons come with 4.10 gears.
Flipping a switch and being locked front and rear is priceless. With that said on a
Sport or Sahara you could add a lunchbox locker to the front and it will double the
amount of fun wheeling and crawling more stuff.

If you get bit bad and get serious then you might want to regear and upgrade axle shafts
so you could buy a base model then buy after market bad ass axle or buy JY and build
them the way you want. The hottest trend right now is find and build a LJ for the wheelbase.
Lord the list is endless
I wheeled my JKU moderately and it did well. It had 35's with flat fenders and no lift, was a manual sport with 3.21 gears and went everywhere I asked it too. What I really want is the rubicon transfer case...even with open diffs and 3.21 gears it would be a game changer for the wheeling I do.

01-25-2019, 04:49 AM
JK Enthusiast

---
Originally Posted by catahoula
You can get cheap take off's all day long. I have Rubi's on mine. I wpuld stick with 17's before 18's.
Get a Sport. I have a 2011 2 door running 295/70/17's with 3.73's and an auto. Mild lift. I am also over 150,000 miles. I was considering selling it and getting an LJ until I found the prices pretty high. TJ would be cool. I have found them on average of $8500 and up. Since the JL release I have seen a lot of JK's on the lots with tons of goodies on them. SO that would be an option too.
I'm leaning towards the sport now. With the JL out, a lot of these early 3.6L JK's are really coming down in price

01-25-2019, 05:15 AM
JK Jedi

---

01-25-2019, 05:51 AM

---
I should admit that after having my TJ for 15 years (recently totaled)
that it was pretty much a trailer queen with trussed Rubicon Dana 44's.
Chromoly axles shafts with 5.13 gears and stretched wheel base , full
roll cage, ORI struts ... blah blah blah.

All I'm saying is I bought 2000 TJ in 2003 when the Rubicons first came
out. I didn't even look at new ones and didn't know anything about Rubicons.
I didn't even think about trail riding to begin with. It just would have saved
me A WHOLE LOT OF MONEY if I started with a Rubicon.

I bought a 2016 JKU Sport to get the wife and grandkids back into a Jeep.
No more rock crawling for me so no need for a Rubicon.
(When I was looking at the JL's all the Rubicons I saw had 4.10's)

01-25-2019, 07:57 AM
Super Moderator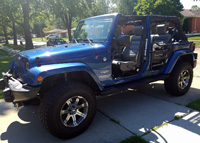 ---
LOL! Yeah, it almost makes me wish I wanted to sell my 2009 with 160K miles on it. I always check on Cars.com and Autotrader.com, just out of curiosity's sake to find out what my 2009 JKU is still worth. Mostly to evaluate in considering if I should drop full coverage insurance on it or not. It continues to be a pleasant surprise.
Whenever, I'm spending too much time working on or fixing something on my JKU my wife tends to get on my butt and starts saying things like "Your Jeep is old....why don't you stop being a cheap azz and go buy a new one so you don't have to work on it so much?" All while I'm usually biting my lip and thinking to myself, "I work on my Jeep and fix things myself because I enjoy doing it and learning more about my Jeep." Instead of saying that, I just say "You realize my old azz 2009 Jeep with over 150K miles on it, is worth more than your newer low mileage 2016 Jeep Renegade right?". Then I pull up autotrader.com and prove it to her....and then say, "I told you that you should have bought a Wrangler instead but you didn't want to listen to your wiser husband."

01-25-2019, 12:11 PM
JK Enthusiast

---
It really all comes down to your usage, really... light-moderate wheeling, you'll want to get the cheaper/simpler Sport. If you're doing moderate-hard wheeling, a Rubicon is good. If you're going to go super hardcore, you're back to a Sport, since you'll want to replace everything that you get with the Rubicon package anyway.

For me, the Rubicon was the right choice. Daily driver with moderate-difficult wheeling, and I have no intention of ever going crazy with the build. For me, some reinforcement to stock Rubicon parts will be plenty, and for my usage, the 4:1 low range and lockers are amazing.

But really, you'll be happy with anything. The thing that really matters is the vehicle capability vs. terrain difficulty ratio. You can be riding by the seat of your pants in something less capable which would bore those same pants right off someone in a fully built dedicated crawler rig.

01-28-2019, 05:16 PM
JK Enthusiast

---
Originally Posted by Quest4SCALE
so, what did you end up getting?
Haven't gotten anything yet, still looking for the perfect deal... I think I'd rather have a JK Rubicon, but finding one that has been unmolested for a decent price seems to be The tipping point. I'll probably end up getting JK sport

01-29-2019, 05:48 AM
JK Newbie
Join Date: Jul 2018
Location: Fort White
Posts: 11
Likes: 0

---
For what it's worth, I was in the same boat 8-9 months ago. I first started out looking for a TJ, then going back and forth between Sport/Sahara/Rubicon. My needs are 95% on road and the 5% off road is Florida jeep trails and not heavy mud. To me 35's complete a Jeep's looks and 4.10 gearing minimum. I pulled up build sheets on every one. Difficult to find a Sahara optioned with 4.10, rare to find sport. Me and my wife drove my dad's JKU in his NC cabin, loved the Freedom tops. My search changed to JK. I decided to sell my RZR XP 1000 to get the Jeep and nearly all 3.6L powered JK's were out of my price range; therefore, 3.8L JK was my focus. Test driving a local JK sport with manual and 34/35 my thoughts were confirmed, 4.10 min and anything less than Rubicon would need gear swap added into the equation. Tough to find a Rubicon hardtop within an hour or 2, not many to begin with that are not abused or someone's project. Finally found a 2007 Rubicon and added lift and 35's, perfect for what I wanted. I have no regrets.

With that said, if you plan to off road any at all and 35's are in the future 4.10 will not be enough with any thing even mild. My brother in-law got a JK with 3.21 and 3.6, a different vehicle. That motor has more power and pulls 34's better than mine with 35's, even with 3.21 verses 4.10.