So what do you not like about your JK?

01-29-2019, 05:31 PM
JK Newbie
Join Date: Aug 2018
Location: Cleveland, OH
Posts: 4
Liked 0 Times in 0 Posts

So what do you not like about your JK?
---
I have my eyes on a low-miles 2012 Wrangler Unlimited that checks all my boxes. The fact that it is low miles causes me a bit of concern (it seems like it has sat idle more than it's been driven), but I can deal with that. After reading these forums and seeing what everyone loves about their Jeeps or all the mods you all have made, what I'm really curious to know is what don't you like about your Jeep? What have been the common problems, issues, pitfalls, and challenges that you all have experienced?

01-30-2019, 05:01 AM
JK Freak
Join Date: Dec 2011
Location: NJ
Posts: 617
Likes: 0

---
I can't say there's anything I don't like about my Jeep. There are plenty of inconveniences and concessions that come with it, but that's part of what driving a toy is all about. Sure the mileage sucks, but I signed up for that when I bought a rolling brick and then jacked it up in the air and put big, heavy tires on. Sure it's noisy, but I pulled out the carpet and sound deadening and I drive it around all summer with no roof or doors. I'm constantly working on it because I've either broken things or I'm making changes to make it better. If there's something I don't like, I change it. So far the platform has been very robust and very forgiving of my tinkering and abuse.

01-30-2019, 06:14 AM
JK Jedi

---
You've found a low mileage '12 and that concerns you?
My usage and experience mimics icrashbikes' response. Mine gets less and less refined, and I'm constantly working on it cuz I use it and it needs maintenance and repairs from time to time. That's just all part of the wheelin' game though.
I kind of look at wranglers much like I do BMWs and other performance imports. Great for enthusiasts that are willing to work on them and understand the nuances, not as good for people that just want to look cool by owning one. Many people want to own a "built" jeep, but don't realize what they're getting in to when mods start. It's often a can of worms being opened up. There's not much about a wrangler that makes economic sense, but they are dang fun to own. Don't think that owning a 4dr will be so much more practical sense if you have a family to truck around. Sure, there's a bit more "space", but the rear seat isn't super comfortable to transport people around in, so just keep that in mind if it's pertinent. The 3.6L in the '12+ was an improvement. If you plan on modding it, take your budget and multiply it by 3……cuz there will be so much more than you think there is to do.
Trying to think if there is anything over the last 6 years of owning my JKU that I didn't like. I can't think of a whole lot that wasn't a self-imposed issue. The only thing that comes to mind, and what hinders me from buying one for my kids is the cost to get in the game. They're just pretty pricey for what you get.

01-30-2019, 06:43 AM
JK Jedi Master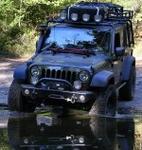 ---
They redid the interior on the '12 from my '07, but I don't like that there's no place specifically for keeping loose change where it's easily accessible. The best I've found is under the removable cupholder insert.
The wiring loom in the engine compartment on my Jeep is falling apart. Just take a glancing look at it and another chunk falls out of it. Inexcusable.
The location of the EGR valve is nuts.
That door map pockets are not long enough to hold a map without adding an extra fold. I think on your '12 they've gone to net map pockets which tend to stretch and become useless (I've read).
Man, this is difficult. It's kind of like asking a fellow who's been married for 50 years, "So, after all these decades, what is it about your wife you find you don't like?" So, I'll end on a more positive note:

01-30-2019, 11:06 AM
JK Jedi

---
Ok, ok.....Mark brought up something that I
DO
indeed truly hate! I have a '13. Those damn pockets on the doors and the center console are the biggest waste of a pocket ever! I think mine stretched out like a saggy wet diaper within the first year, and I don't even use them. This last year I finally got tired enough of looking at them I just cut the damn things off. ***edit****
Slickrock Gear
makes a nice pocket/cubby to go in place of em, but they are $$$ for a simple pocket..
The door electrical wiring harnesses improved over the years too. 2014+ are much easier to disconnect and reconnect than on my '13. Not certain if mine is the same as earlier models or not. They're not terrible, but not great either....definitely requires 2 hands to separate the harnesses vs. 1 hand for the newer ones.
---
Last edited by resharp001; 01-30-2019 at

11:09 AM

.

01-30-2019, 01:07 PM
JK Newbie
Join Date: Aug 2018
Location: Cleveland, OH
Posts: 4
Liked 0 Times in 0 Posts

01-30-2019, 01:07 PM
JK Super Freak
Join Date: Mar 2014
Location: Nashville, TN
Posts: 1,396
Likes: 0

---
The things you don't like, become a reason you love being a Jeep owner even more. In that it's still worth it to own one, despite the stupid things you wouldn't have to put up with owning a different vehicle. And only other Jeep owners can relate.

Leaks
Noise
Ride quality
Mpg
Cheap factory parts

Join the club!!!