Needing advice for Colorado trip

02-14-2018, 08:59 AM
JK Newbie
Join Date: Apr 2015
Location: So ILL
Posts: 15
Thanks: 0
Thanked 0 Times in 0 Posts

Needing advice for Colorado trip
---
Hey Everyone,
We are planning a family vacation out to Colorado this summer in July. I have never been out there before and looking for advice and experience on some good simple back roads to check out. We have discussed going to the Rocky Mountain National Park area but nothing is locked in yet. We won't really have "plans" locked in other than go out there for about 10 days, see the scenery, and camp a bit. Not looking for any hardcore challenges as my jeep is in stock form. Just some family friendly fun. Please let me know what you think.
Thanks

02-14-2018, 10:48 AM
JK Junkie
Join Date: Jun 2013
Location: Willow Park, TX
Posts: 3,773

---
You can't go wrong in Ouray, CO.....plenty of things to explore in a stock jeep, and everything should be open in July. They try to target having the passes all cleared by July 4th weekend. That part of the rockies is really the most beautiful IMO.
There are some really good fields guides available on the market, but this is a good free resource as well -
https://www.trailsoffroad.com/states/CO
The best part about Colorado is a lot of it is just about the beautiful scenery, adn there are tons of things to do with a stock jeep.

02-14-2018, 12:07 PM
JK Junkie
Join Date: Jun 2013
Location: Willow Park, TX
Posts: 3,773

---
Some of the Colorado guys might be able to advise on that. I've always thought it was weird up there, just cuz so different than Texas. Seems like camping in national forrest is just so much more random. I've always thought a little harder to plan that way when you're from out of town. A lot of the trails I've been on, especially in the forrest, just random campsites here and there sprinkled along the trail. I'm sure someone can chime in with advice though.

As far as Ouray, you could easily spend a couple days in that area exploring the trails. Again, most of them are perfectly fine for a stock jeep. If you're in that area, check out Cascade Falls right there in town....it's just a park and walk back 1/4" mile if even that. Box Canyon Falls too. If you're in for a hike, might look up Bullion King Lake just south of town. All the old mining ruins along the Ouray trails are cool places to meander about.

Also, are you planning on traveling throughout more of the state? If you can pinpoint general areas we can probably add a few interesting things to see along the way. Interest is just jeeping and camping? Hiking as well, or local attractions?

02-14-2018, 01:35 PM
JK Enthusiast

---
Originally Posted by
SIRed
Hey Everyone,
We are planning a family vacation out to Colorado this summer in July. I have never been out there before and looking for advice and experience on some good simple back roads to check out. We have discussed going to the Rocky Mountain National Park area but nothing is locked in yet. We won't really have "plans" locked in other than go out there for about 10 days, see the scenery, and camp a bit. Not looking for any hardcore challenges as my jeep is in stock form. Just some family friendly fun. Please let me know what you think.
Thanks
The Park is awesome definitely go there. Admission is a bit pricey I think $40 was the annual pass to go in and out as much as you want. If you intend on leaving it's worth the cost. My family and I usually get the annual pass if we intend on being up there at least twice. Make sure you got good hiking gear. There are so many awesome trails back there. Definitely do Trail Ridge road, even though it's paved there are some yikes moments! Views are amazing. I personally recommend a hike to gem lake if you got young kiddos. The chipmunks will flock to you and beg. If the family is older hike to Sky Pond, fricking amazing. Excellent fly fishing, or lure fishing if you're willing to walk. If you intend on camping RMNP itself. Make a reservation right now! The place is highly popular and sells out lickety split. We've camped at Aspenglen only. It's nice and wooded. You'll have to use their bear boxes for your food when you do camp there. Estes Park itself has several campgrounds about that you can reserve spots at. Mary's Lake is decent, pay for showering though, and I think East Portal is the same as Mary's Lake. Of course there are KOAs and such about.
I also forgot to mention.
You don't need a permit most places. About the only time I can think of needing a permit is when you backcountry camp. That's for the super serious people who take water purifiers, Jet Boil stoves, and hike 15 miles one way to set up camp.
If you camp in state forests, you can do dispersed camping, meaning dig a hole for the potty, and pack in pack out everything. Your best resource on camping is Colorado state forest websites and US national forest site. Each county in Colorado has their own and lists tons of campgrounds and amenities provided. Regarding wheeling up by Estes Park. I am afraid I can't help there. Never ventured that way for wheeling.
I can personally attest to the following trails in my stock JK. Georgia Pass (near Breckenridge) easy, Weston Pass easy, Argentine Pass it's not scary but there are parts where you need to take your time (near Georgetown through Guanella Pass). Hancock Pass over by Buena Vista was doable in stock but I really had some OH S%!T moments. That was more likely due to my inexperience off roading Resharp can attest to that.
Check out this website to.
http://bushducks.com/tripreps/passopen.htm
Not a lot of information regarding the trail itself but just give you an idea of what you can do in the area and what is open.
Ouray is amazing if you do have time to head out there. Unfortunately completely opposite end of the state than RMNP. I intend on camping out there this year and hitting things like Imogene, and Engineer pass. Feel free to shoot me a PM if needed and we can chat via email or text.
---
Last edited by Seizer; 02-14-2018 at

01:50 PM

. Reason: Forgot a link

02-14-2018, 01:40 PM
JK Junkie
Join Date: Jun 2013
Location: Willow Park, TX
Posts: 3,773

02-20-2018, 02:20 AM
JK Jedi Master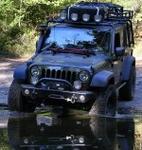 ---
Your Jeep is a Rubicon. While you may not feel comfortable tackling some of the routes, your Jeep won't have much of a problem. Since you have ten days, I would recommend the Ouray area in addition to Rocky Mtn NP. Engineer Pass is great. So is Imogene. While Mineral Creek from Ouray up to Engineer is a bit difficult, you'll likely find that the exposure is more intimidating than the occasional shelf you must cross. There are alternate ways up, so consider them. The drive up from Lake City can be done in a Prius (okay, maybe not literally), but is definitely worth it if you don't want to tackle the tougher route. Imogene is a nice route--nothing terribly technical on it.
If national parks interest you, I'd also recommend visiting Black Canyon of the Gunnison and Great Sand Dunes. The best part of The Black is from the north rim, but it's a long way there from the south side--couple hours drive one way. But if you drive it, hike out to Green Mountain. And take the side trip to Exclamation Point for the best view of this amazing, half mile deep, slot canyon.
Great Sand Dunes has a 4WD access route over Medano Pass (pronounced "med'-no"). It's a great way to arrive on the back side of the dunes. If you decide to drive this, you'll be arriving in sand and, depending on recent rains, might find it necessary to air down. Be prepared with an air compressor. There will be some crossings of Medano Creek, but shouldn't be anything your rig can't easily handle.
In Rocky Mountain NP, drive up Fall River Pass if it's open. It's a dirt road maintained for (I mean it literally this time) Priuses. But much better than just the paved road.
Here are some resources I've assembled in the past that you might find useful ...
Trip report for a hike out to Green Mtn in Black Canyon of the Gunnison NP ...
https://www.summitpost.org/a-view-to-a-vista/214959
Video of the drive up to Engineer Pass from Lake City, then descent down to Ouray through Mineral Creek ...
Public photo album that includes some photos of Medano Pass into Great Sand Dunes NP, Engineer Pass and Imogene Pass ...
https://www.facebook.com/media/set/?set=a.2023985520195.2107718.1260697505&type=1&l=6 29d4aa965
Video of the drive along Fall River Pass in Rocky Mtn NP ...
For the off-highway part of your trip, I recommend the Charles Wells' backcountry and four wheel drive trail guides from funtreks.com. He has several Colorado books, so you can decide which ones work best with you final plans. Enjoy; Colorado is a beautiful state!
---
Last edited by Mark Doiron; 02-20-2018 at

02:26 AM

.

03-09-2018, 06:36 PM
JK Newbie
Join Date: Mar 2018
Location: Winona, MN
Posts: 4
Thanked 0 Times in 0 Posts

Love vacationing in CO
---
We have been vacationing out in Colorado for years and never get tired of it. The state is beautiful and we never get tired of the taking the trials around Ouray but there are trails all over the state. As it was suggested, pick up a trail book and go adventuring. The FunTrek books will give the details of whether or not the trail is easy, moderate, or difficult. We have traveled almost all the trails around Ouray except for Black Bear pass and and done it in a Jeep Grand Cherokee Limited (stock) and in many other 4-wheel drive vehicles (91 Chev Blazer, 99 Jimmy, Chev Avalanche, and ATV's) so you should have no problem. Don't be afraid to ask for advice and help on a trail as at that time in the summer there will be lots of people taking the trails and most everyone is willing to help you and give advice. My recommendations for Ouray area are the same as has been mentioned...Imogene, Engineer (is rough right off Hwy 550 but gets better near the top), Ophir pass, Corkscrew pass...you just can't go wrong as it is so beautiful.

Well good luck and have a great time!