Upgrading Stock tires and lifting

06-13-2019, 10:16 PM
JK Newbie
Join Date: May 2019
Location: San Jose
Posts: 2
Received 0 Likes on 0 Posts
Upgrading Stock tires and lifting
---
Hello there I'm a new 2013 Sahara Unlimited and new to the forums
im looking to get a 3.5 " lift and 35" tires. anything I should consider? any brand recommendations too? Thanks for Info in advance guys!

06-13-2019, 11:59 PM
JK Jedi Master
Join Date: Jan 2008
Location: Texas
Posts: 10,946
Likes: 0

---
Welcome to the forum!

First off, be prepared for a bunch of people to try and talk you out of a 3.5" lift and into a 2.5". It's your jeep and your money, so get whatever is going to make you happy!! (but as a suggestion, even if you don't follow the advice on a shorter lift, it's not a bad idea to at least think about the opinions of the folks who have been there and seen the various issues first-hand)

Not knowing your background - you might start with the threads stuck right to the top of the Modified Tech area, (FAQ's and Thoughts on Lifts). There is some good info in both. If you don't already know what they do, educate yourself on the various suspension and steering components so you have a handle on what parts correct whatever you messed up by lifting. (ex, caster is reduced with lift height, causing flighty steering. There are several forms of components to correct it, which is right for you? A 3.5" lift will likely give 4-4.5" of actual height, so you will probably want to correct the steering angles. Which option should you choose? The front driveshafts are notorious for spitting grease and needing to be replaced with taller lifts, what are your plans? The list goes on and on...)

For specific lifts, there are a bunch to choose from, some much more popular than others. At 3.5", you probably shouldn't expect to be happy with a lift in the $200-500 range (though some folks are...) You're more likely to be looking in the $1000-1500+ range to get a decently complete lift from a quality mfg. You can always start basic and add components later to any lift from any mfg, so this is where knowing the issues and specific components will help out in the search for the right lift for you. If you don't start with a 'complete' lift, it is better to plan out some upgrades rather than throw money away by buying the wrong base lift and replacing the same components over and over.

Anyway, I'm running a Metalcloak lift, so it is automatically the best mfg and the one you should choose! heh. Synergy, AEV, Teraflex, Rock Krawler and JKS are popular also, among many others. Read and analyze the lifts and the replies you get, don't just go with a knee-jerk 'I'm getting this one!' Then, 'No, today I'm going to order this other one!' Then, 'Really? Not that one? So I'll order this third one right now!!' Take your time.
---
Last edited by nthinuf; 06-14-2019 at

12:03 AM

.

06-14-2019, 04:43 AM
JK Jedi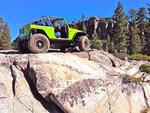 Join Date: Oct 2010
Location: Southwest Reno, NV
Posts: 5,184
Likes: 0

---
Choose your tires wisely, many people that are new buy the wrong tires and end up with a rough ride. Look for C rated tires and 17" wheels. A 2.5" lift will be a better fit and cost you way less than a properly done 3.5" lift. I would second Metal Cloak and they make several different lifts depending on what you plan on doing with the jeep which is an important question to ask. I suggest you read the link in my signature to gain some info on lifts and what is needed at different heights.

Good luck with the mods.

06-14-2019, 05:08 AM
JK Jedi

---
Besides the cost of the lift, be sure to factor in other expenses that are commonly not considered. With a 3.5" lift, you'll need to consider a front drive shaft at some point as the CV joint on the TC side of the factory shaft will eventually die running at that angle. Either a new DS or a replacement high-angle CV joint will be in order. Also, many don't consider steering components. Those 35s will likely wear out factory ball joints, so be thinking about that. If you wheel, a new tie rod is probably in your future, and if your 3.5" kit doesn't come with a high-steer kit, you'll probably be considering one. Just know you can't lift a jeep for cheap. Do us all a favor and steer clear of Rough Country's 3.5" kit.

06-14-2019, 07:35 AM
JK Freak
Join Date: Dec 2011
Location: NJ
Posts: 648
Likes: 0

---
Man, you guys are all on point with the "new lift" thread responses! These should all be compiled into a sticky to save some wear and tear on your keyboards. Or maybe you're all just copying and pasting at this point...

06-14-2019, 07:41 AM
JK Jedi

06-14-2019, 11:59 PM
JK Newbie
Join Date: May 2019
Location: San Jose
Posts: 2
Received 0 Likes on 0 Posts

---
Thank You guys for all he info and warm welcome ill def be looking into all the details. and yeah ima def stay away from rough country, I knew that much lol. appreciate all the comments and ill make sure to keep you guys updated and come back if I got more questions.