Photobucket Alternatives Discussion (3rd Party Hosting policy change)

07-01-2017, 06:42 AM
Super Moderator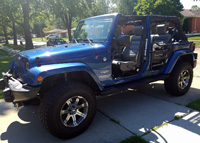 Photobucket Alternatives Discussion (3rd Party Hosting policy change)
---
Hi all,
I figured I'ld post this in the write-up section to get the discussion going in regards to Photobucket alternatives.
Background:
As of yesterday (6/30/17), without any prior announcement, long time image hosting site Photobucket.com decided to disable 3rd party hosting capabilities for free and lower tier accounts. To get this capability back, users must now pay $39/month or $399/year. Many users on this forum, including myself have used this capability going on 14 years when photobucket originated.
Impact to this forum and many others like it:
What this all means is that if you made a write-up on a forum and used a free photobucket account to store those images and then linked that image to be displayed in a write-up in a forum post, the image will no longer be displayed in the forum and will be replaced with Photobucket's ransom image, telling everyone the account needs to upgrade their service plan. This will make many write-ups in the forum worthless.
As an example, click on any of the links in my signature to see the actual impact of this policy change by Photobucket.
To get that capability back, as users at this point we have 2 choices.
1. Start paying Photobucket $399 a year, for a service that brings little value to the person paying for that service but brings more value to the forum the image was being displayed in.
2. Move all your images used for posting in Write-ups to another image hosting site which provides 3rd party hosting capabilities, then go back and edit all your previous Write-up posts which included images and update the links to the new hosting service image location. This is all a major PITA as well.
I really like many of you on this forum, but sorry I'm just not going to shell out $400 a year so I can display images for everyone, of my write-ups. So I'm looking for an alternative to Photobucket, preferably "free". I'm sure there are others like myself, who feel the same way. So let's discuss our options.
Also, even if I decided to pay for Photobucket's service, I really don't feel this is going to go well for Photobucket. The writing is on the wall, this is likely the beginning of the end of Photobucket unless someone buys them out. Preferably, someone that knows how to make a business out of providing a free service to the user, and is able to capitalize on it in other ways. Google has mastered this money making strategy.
More background details can be found here:
https://www.ghacks.net/2017/06/30/ph...hosted-images/
https://www.theregister.co.uk/2017/0..._3rdparty_pgs/
https://www.pcmag.com/news/354711/ph...s-the-internet
---
Last edited by Rednroll; 07-01-2017 at

07:23 AM

.

07-01-2017, 01:18 PM
Super Moderator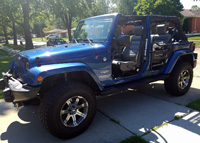 ---
I found a solution that works for me. I'm able to use My Google Drive to post images. Google+ can also be used but seems difficult to try and organize files if you do any write-ups.
Generating a forum recognizable link is a tad challenging in using your Google drive.
If anyone is interested, here's the steps on doing it.
1. Upload your image to your Google drive.
2. Change the settings of the file so it is shareable, viable to others with the link.
3. Copy the image shareable link in Google Drive
Example:
https://drive.google.com/file/d/
0B9VLF5Cfl9BYMVh6Ynk3T0dqU28/view?usp=sharing
4. Copy the highlighted section to the end of this link:
https://drive.google.com/uc?id=
To Create the combined image link to share:
https://drive.google.com/uc?id=0B9VL...Vh6Ynk3T0dqU28
Then post the created link in the forum, which will show up like such.

07-03-2017, 10:15 AM
JK Junkie
Join Date: Jun 2013
Location: Willow Park, TX
Posts: 3,927

---
I wasn't aware you could do this from Drive. I'll have to try this next time instead of downloading and attaching a photo. Thanks!

07-03-2017, 10:27 PM
Super Moderator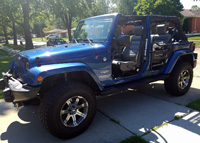 ---
Not ideal, but I just found an easier way to create the image link from Google Drive.
1. Right click on image select "Get Shareable Link"
2. Copy link
https://drive.google.com/
open?id=0B9VLF5Cfl9BYRkJMWmdNazZqSUk
3. Change "open" to "uc"
https://drive.google.com/uc?id=0B9VL...kJMWmdNazZqSUk
Original Shareable link test (=No Good)
"open" replaced with "uc" test (=Success)
That works for me. You get 15GB of free Google Drive space
I created a shareable folder on My Google Drive, and anything I put in that folder is now automatically shareable as well.
---
Last edited by Rednroll; 07-03-2017 at

10:37 PM

.

07-04-2017, 09:52 AM
Super Moderator
Join Date: May 2011
Location: Wake Forest, NC
Posts: 4,338
Thanks: 0
Thanked 0 Times in 0 Posts

---
I hated when Google did away with PICASA photosharing. I basically embed my images which stinks because they display small until you click on them. I may have to switch over to your way using Google Drive.

07-05-2017, 01:34 PM
JK Junkie
Join Date: Jun 2013
Location: Willow Park, TX
Posts: 3,927

---

07-05-2017, 08:41 PM
Super Moderator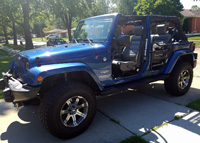 ---
Originally Posted by
resharp001
Sorry. For images, I'm in the habit of placing the HTML brackets around the link and incorrectly assumed everyone else did the same. Some forums have a button to do it for you automatically as well.
So after you generate that link, you need to put these tags around the link exactly as you created, for the image to be displayed in the forum.
[img]Link[/img]
This forum automatically makes it a clickable URL Link tag for you, when you post a link. So if you select to edit your post, you'll see
[ur l]Link[/url] around the link you posted. Which is another HTML tag
So for your image to show up surrounded by those img tags.
---
Last edited by Rednroll; 07-05-2017 at

08:50 PM

.

07-05-2017, 08:59 PM
Super Moderator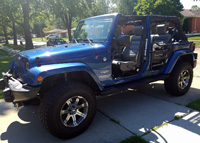 ---
That's also the way to post images that are shown on other websites without having to copy or upload them to Google Drive or anywhere else.
So for example, if I wanted to display a picture on this forum, of a product which is displayed on Amazon. I would go to Amazon, and right click on the image. Then select "Copy image location", which creates a link for you. Then I would paste that link in this forum and then put those [img] and [/img] brackets around that created link, like such.
If I wanted to display a picture that was displayed on Rock Krawlers website, I would do the same.
An image from RKs main home page.
Or if I wanted to display your avatar in this post, I would do the same.
---
Last edited by Rednroll; 07-05-2017 at

09:02 PM

.

07-06-2017, 07:45 AM
JK Junkie
Join Date: Jun 2013
Location: Willow Park, TX
Posts: 3,927

---