38's on 3.5" Metalcloak Lift?

07-03-2019, 08:38 AM
JK Newbie
Join Date: Jul 2019
Location: Bedford
Posts: 1
Likes: 0
Received 0 Likes on 0 Posts

38's on 3.5" Metalcloak Lift?
---
Hi All,
I'm new to the forum and have been the owner of a stock 2014 2dr Rubicon for the last few months. It's killing me looking at this jeep stock as I was a previous TJ owner that was lifted.
I recently purchased the 3.5" lift from Metalcloak and am seeing a lot of people going to 37" tires which I agree has a better look over 35's. After doing some research, I'm not finding much on running 38's on a 3.5" lift and am curious if anyone else has done this on a 2dr JK.
Here are my proposed specs below:
3.5" Metalcloak True-Dual Rate Lift.

17x9 MRW MR312 Wheels with 4.5 Backspacing.


38X13.50R17LT BW Milestar Patagonia Tires.



5.13 Yukon Gears.

Metalcloak Overland Tube Fender.

Woody's Front and Rear Driveshafts.

38's Milestar tires are significantly cheaper than 37's and are lighter than other main brands. I'm curious with 4.5 backspacing that if I could get away with not having any rubbing on the frame or other parts of my jeep outside of the front bumper. Is there anything else that I'm missing to accomplish this setup or something that I should be aware of before pulling the trigger? Would 38's look too big on a 3.5" lift?
.

07-03-2019, 09:07 AM
JK Junkie

---
You'll need the wheels to poke out further for 38's and you should be prepared to do serious trimming in the body panels or go with excessive amounts of bumpstop which makes it pointless to be on 38's. Do it right.

07-03-2019, 09:43 AM
Super Moderator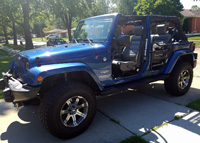 ---
You're putting on a 3.5in MC lift with MC trimmed fenders. That combo will fit 38s for fender clearance height.

The 4.5in backspace wheels won't push those tires out far enough for steering issue concerns. You'll need wheels with less backspace.

07-03-2019, 10:09 AM
JK Jedi

---
You need 3.5" BS wheels which limits many options down to beadlocks....either that or running spacers. You don't see many running 38s cuz it's an odd size for 17" wheels. Not many manufacturers make em in that size. Requirements same as running 37s.....which is more than you probably realize it is to do it right. Take the comments in this thread to heart and be honest with yourself when deciding if the jump from 35s makes financial sense depending on your use or what you're going after.
https://www.jk-forum.com/forums/modi...d-help-349200/


07-03-2019, 10:13 AM
JK Jedi Master
Join Date: Jan 2008
Location: Texas
Posts: 10,957
Likes: 0

---
MC 3.5", 37" STT Pro's, chopped stock fenders - running 4.5" backspace & 1.5" spidertrax.

Without the wheel spacers, I would rub the previous 35/12.50's when turning through certain intersections that had dips/drainage. No chance the 37's would not rub with only 4.5" bs.