Anyone had experience with Zone lifts?

07-07-2019, 04:40 PM
JK Newbie

Anyone had experience with Zone lifts?
---
I'm trying to ball on a budget. Been looking at 3" lifts. I don't off road hard. At most, farm trails with a bit of mud and some rocks maybe every other week. I'm looking at fitting 35" tires so I know I need to lift it. Has anyone had any experience with Zone lifts? For the price, I think its looking good. Any input?

07-07-2019, 06:38 PM
JK Freak
Join Date: Nov 2013
Location: Sweet Home, TX
Posts: 859
Likes: 0

---
Never heard much good. Guys I know that have had them have always been way lower than expected when they actually checked the measurements. You do better to go after quality products, and buy them a piece at a time. Build up slowly.

For the best price, and advice, call Marcus Rose at River City Offroad. I swear he's the only guy in the business not just trying to sling crappy parts, he knows what he talking about and won't steer you wrong.

If you're going to cut your fenders, then don't lift, just cut you fenders slap on some new wheels and 35s and be done.

If you're keeping the stock fenders and just want to go cheep and be done, get a spacer lift and go.

If you want to start building and do it right, get some quality 2.5 in springs (you'll end up higher than 2.5 if you are stock weight anyway), some shock extensions, a rear track bar bracket, some brake line brackets for the rear, a pair of longer sway bar links, some geo brackets for the front, and bigger bump stops all around, this will get you started, and then you replace and build from there: i.e. replace the brake line brackets with longer brake lines, replace the shock extensions with longer better shocks, get a front track bar, get adjustable front lower control arms maybe rear upper, the list goes on forever.

There have been a million posts like this with folks asking, " is this such and such brand cheep lift good." The answer is always the same.

It's like my dad always said, "it takes money to go fast."

You have to pay to play.

Happy Jeeping!

07-07-2019, 06:43 PM
JK Freak
Join Date: Nov 2013
Location: Sweet Home, TX
Posts: 859
Likes: 0

---
I started with Teraflex springs. They do don't handle weight at all. If you have a full size 35in spare, you will not get advertised height.

Now I'm running Rock Krawler springs, Bilstein 5100 shocks, and Synergy hard components, and am very happy. My build is not complete, but likely never will be.

07-08-2019, 05:29 AM
Super Moderator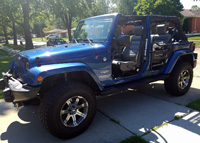 ---
I have no personal experience with Zone. Aside from brand name, what's more important is the actual contents of the kit. So if you could post what actually comes in the Zone lift you're looking at, most of us could tell you its weak points and what else would be needed to better complete the kit.
When I was originally looking at lifts, Zone seemed to be one of the better lifts in that $500 price range. The drawback seemed to be with the quality of the shocks. The thing is with most of the lift kits in that $500-$600 price range they tend to have spring or shock quality concerns. Springs sag over time, shocks are rough and don't tend to last very long. I'm unsure about the quality of the Zone springs, you may want to look into that. The poor quality of the shocks was what I recall when reading about them.
Zone is owned by Sport Truck USA who owns the name brands JKS, BDS, and Zone. Those name brands are tiered as such in regards to performance and quality.
JKS=Premium
BDS=Mid
Zone=Low
The suspension experts | Sport Truck USA
So you're looking at the bottom of the barrel from sport truck usa.
In a similar price range, while not being the greatest I've read positive feedback about the Rubicon Express 2.5in lift. I think that may be your best choice in that same $500, and trying to fit 35s category you are currently looking at.
Some words of advise. While you may think you're only spending $500 for a lift, and that you will only be doing mild off road activities and therefore currently don't need a premium lift, that is not really what you're paying extra $ for with the more expensive lift options. What you're really paying extra $ for is to maintain the good on road ride quality and handling. If you don't mind your Jeep bouncing down the road and your steering feeling non responsive and not easy to maintain a straight line going down the road when removing your hands from the steering wheel, then a $500 lift may suit you but that doesn't tend to be the case with most of us who use our JK's as a daily driver. So if you're currently budgeting $500 for an inexpensive lift, you better plan on closer to $1200-$1500 to get your JK back to driving good for on road driving. Post the contents of that Zone lift and the rest of us can tell you where those additional costs will come into play.

07-08-2019, 06:09 AM
JK Newbie

---
Well. For the most part this is their site.
Zone Offroad 3" Suspension System J12N/J13N
I can add certain pieces from that site as well when I order the lift. It comes with the coil springs, rear sway bar links, rear track bar, bump stops, break line brackets, and shocks.

07-08-2019, 06:17 AM
JK Jedi

---
Agree with what's above and would add this. A few things people trying to work on a skinny budget don't think about in regards to lifting a JK, are that larger tires tend to eat up factory ball joints. Some people have luck with em lasting a while, but more often then not, they go kaput in short order with 35s or larger. Decent new BJs will run $225+, and if you can't do the labor yourself, several hundred more for install. Also, if you net 3"+ of actual lift, you're front drive shaft will probably have a short life span working at that angle. These are the types of unforeseen costs that sneak up on unsuspecting folks.

IMO, I think you can accomplish a lift on a budget if you really understand the required components and piece things together vs. buying them as a cheap kit. One thing that eats the budget fast is buying crap components and then realizing their crap and having to re-purchase a better one. A good example is that most cheap lifts come with pos track bars. Your TB is one of your most important components, and the leading cause of DW's. So, do you want a TB with cheap as poly joint on one end with a cheap heim at the other, or something with quality joints that are going to hold up? It's not ONLY about being adjustable. If it were me, I'd buy a quality TB along the lines of Metalcloak, Synergy, or Teraflex, and build around that. Add springs of choice, shocks of choice, brake line drop brackets, some control arm drop brackets to adjust caster, can use some stacked hockey pucks for bump stops up front, some simple square tube for rears, and add a rear raised TB bracket. You can even build sway bar links out of all-thread and some rod ends purchased off ebay. As noted above, that just gets you in the door and operational. You can upgrade from there. At some point, you might be looking at tie rods and gearing.

A lot of things can be picked up second hand even as long as you know what you're looking for....especially things that don't have joints that can wear. Can find control arm brackets used from time to time. Can find used springs.....maybe someone bitched about their springs sagging and upgraded to something else. Could be a good opportunity to pick some up cheap....They might work fine on your jeep. If one end sits a little lower than the other, it's $35 for a set of 3/4" spacer pucks to even it out. There's 1000 ways to accomplish this stuff. You can do it on a skinny budget if you're resourceful and know what you're doing. It's less likely to do it well on a budget if you buy a cheap kit thinking $800 is all it's gonna take. Just my opinion.

07-08-2019, 06:25 AM
JK Jedi

---
Originally Posted by
L3ftNu7
Well. For the most part this is their site.
Zone Offroad 3" Suspension System J12N/J13N
I can add certain pieces from that site as well when I order the lift. It comes with the coil springs, rear sway bar links, rear track bar, bump stops, break line brackets, and shocks.
A 3" kit that doesn't even come with a cheap adjsutable TB? Oof. I wouldn't pay $470 for that knowing the shocks are likely to be crap. Take out the few other items in that and you're really paying too much for those springs essentially.

07-08-2019, 09:38 AM
JK Jedi Master
Join Date: Jan 2008
Location: Texas
Posts: 10,957
Likes: 0

---
I'll second this. Nothing at all wrong with a spacer lift on a daily driver that will see minimal offroad time. Teraflex has some popular budget boosts you could look at for reference. 2.5" pucks, longer rear links (move the stock rear links up front), taller bumpstops, a rear trackbar bracket, cheap brakeline extensions, shock extensions (to keep the cost down - unless you just want new shocks?)
And then, while not mandatory, the additions to think about would be caster correction (a set of ca brackets would work just fine) and centering the front axle with a decent quality trackbar (after install, see how much the offcenter axle bugs you).

07-08-2019, 10:56 AM
Super Moderator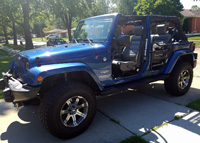 ---
Originally Posted by
L3ftNu7
Well. For the most part this is their site.
Zone Offroad 3" Suspension System J12N/J13N
I can add certain pieces from that site as well when I order the lift. It comes with the coil springs, rear sway bar links, rear track bar, bump stops, break line brackets, and shocks.
Ok, Thanks! That helps.
Likely problems headed your way which will likely need to be addressed some time down the road with that kit.
1.
Uses Frame side mounted rear track bar relocation bracket.
Axle side relocation bracket is a better solution. The frame side brackets tend to be weaker and often will cause interference with the rear shock body. You will likely find yourself in the future looking to purchase an axle side relocation bracket and/or rear adjustable track bar. Add $100-$150 to your budget for a proper relocation bracket.
Here's the JKS J-Spec lift made by the same company. Notice how it has an axle side relocation bracket? So right off the bat, you can see where they decided to cut corners on the Zone branded lift option.
https://www.quadratec.com/products/1...hoCDB8QAvD_BwE
2.
Shocks=Body down.
Most prefer shocks with the body side up, it helps to keep the body from getting damaged. Zone probably decided to go with a body down shock design to help prevent the shock/rear TB relocation bracket interference I mentioned above, which means when those cheap shocks go out or you're just unhappy with the ride quality, now you're limited to body down design shocks...or purchase body up shocks and then discover the shock rear TB relocation bracket interference.
3.
No exhaust clearance:
Your profile says you have a 2018. Zone actually does a good job in the install video explaining this, jump to the 2min point in the video from the link you provided. Add $60-$100 for the inexpensive exhaust spacer solution.
4.
No caster correction
. This is pretty typical with most lifts out there until you get into the >$1.5K kits. You will need to add geo brackets or front adjustable control arms to correct caster. Figure about $150 for geo brackets which will be your best solution for use plans.
5.
No Front adjustable "HD" Track bar:
In their install video they suggest getting this, but then say "it only corrects the front axle from being off centered by 1/2in which you won't notice". That is a true statement, in that the 1/2in off centering of the front axle isn't going to make a difference but the more important part that they don't tell you about is that when you lift, you're going to be installing larger tires as well. The larger tires will require you to get an "HD" Front Track bar since the factory one wasn't designed for the heavier weight of the larger tires. Which all translates to your steering will feel sloppy, and it may lead to death wobble since that front TB will be flexing when you steer. Add $300 to your budget for an adjustable Front HD Track bar.
6. Shock Quality and Spring Quality:
Those shocks are likely crap and the springs may sag with any added weight and may sag over time but that's just speculation on my part since I don't have any personal experience with them but I would plan on having to replace both in the future. This is the reason I suggested the Rubicon Express 2.5in since others have reported not having spring sagging issues with that kit at the similar price point you're looking at. The Zone springs may be fine. I don't know for sure, but it's a risk to consider. You may want to budget $100 for spring spacers in the future if they sag.
Also take into account when you go to mount those 35s, you're either going to want to purchase new wheels or add wheel spacers for steering related concerns due to the larger size of the tires but that's not part of the suspension.
---
Last edited by Rednroll; 07-08-2019 at

11:29 AM

.

07-08-2019, 12:16 PM
JK Newbie

---
Thank you all for the info. I think right now, I'm going to hold off and save for a better lift. Found a nice set of steel wheels and just gonna stay with the stock tires for now. They're almost 32. May swing for 35s when I need new tires. May just go with a leveling kit to get the stance the way I like it until I can save up $5k. That way I can get what I want and a good suspension.

Jeeps are amazing and there's always gonna be stuff I can do.

Thanks again for all the research and knowledge!