Anyone tow their Jeep with another Jeep?

03-29-2019, 11:02 AM
JK Newbie
Join Date: Mar 2019
Location: Medford
Posts: 19
Likes: 0
Liked 0 Times in 0 Posts

Anyone tow their Jeep with another Jeep?
---
I tried posting this before and canít seem to find it.

I am moving and need need to tow my 1990 wrangler 150 miles. I have an 07 Wrangler Unlimited Sahara (hard top) and wonder if it will be able to tow the old one with a dolly or flat bed. ???

03-29-2019, 11:39 AM
Super Moderator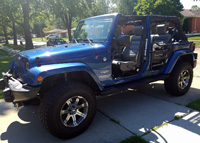 ---
Well, the JK Wrangler at minimum weighs 4K pounds not sure of 1990 wrangler but it can be looked up with some internet searching, plus don't forget to throw in the weight of the trailer. The rated towing capacity depending on which year/model you have of a JK Wrangler is 2K-3.5K lbs. The 4 door has a higher tow rating. You can do the math from there.

As further information, I had to trailer a 2003 Jeep Liberty (ie less weight than a JK Wrangler), likely similar weight that you're dealing with towing and went to U-haul to rent a flat bed vehicle trailer. They told me they would not rent me the trailer if I was towing the Liberty with my JKU Wrangler. Likely because of what I already mentioned, tow weight exceeds rated towing capacity. My buddy has a Ford F-150 and we used that instead.

It sounds like you may need to rent a trailer. The trailer rental place can easily tell you if it's even allowed, since they have all that information on hand. I would rely on that as your source of information. You can look up the weight of the vehicle+trailer weight and the tow rating of your JK ahead of time to get an idea of what their answer may be.

So can a Wrangler tow a 1990 Wrangler on a trailer? Probably. Is it safe? Likely not. The JK wrangler is not a very good tow vehicle, lack of brakes, gearing, and stability. If you still decide to do it and it doesn't meet the tow rating and anything bad happens, do you put yourself in a really bad situation both for risking an accident and being found liable which could put you in a really bad financial lawsuit situation? Yes..definitely, so best to check with a company such as U-Haul, Rider, etc who have that information on hand. Not knowing is not an excuse when it comes to liability and negligence in the eyes of the law. So is it worth the risk? Only you can decide, but I decided when I was in a similar situation and was told that it wasn't, I then looked for alternative solutions. I'm going to take a guess based upon what I was told by Uhaul with the Jeep Liberty and likely having similar weights as a 1990 Wrangler, you may get the same answer that I did.
---
Last edited by Rednroll; 03-29-2019 at

12:04 PM

.

03-29-2019, 12:05 PM
JK Jedi Master
Join Date: Jan 2008
Location: Texas
Posts: 10,896
Likes: 0

---
It's a 'can you' versus 'should you' situation. Ya know, just because you can tow a motorhome or a semi with your JK, doesn't mean it's a good idea.

That said, yes, a jk is capable of a pulling heavier loads than the tow rating advises, and many people do so. Things to consider would be the braking, cooling, your gear ratio, possible sway control and load leveling issues, which roads you will be on (steep hills?), expected traffic, ** liability issues!! **, whatever else. Take it all into consideration before deciding what you want to do.

03-29-2019, 12:37 PM
Super Moderator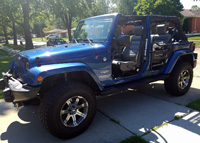 ---
Doing some googling.
2007 JKU Wrangler Curb Weight= 4075lbs
2007 JKU Wrangler Max towing capacity=3500lbs but requires the Max Tow package to be installed. I've read 2500lbs without max tow package, and also 1K pounds. Max tow capacity should be in your owner's manual.
1990 Wrangler curb weight=3062lbs.
Then from Uhaul of their flat bed vehicle transport trailer
https://www.uhaul.com/Trailers/Auto-...ort-Rental/AT/
Must weigh at least 3,500 lbs. (curb weight), and must equal or exceed 80% of the combined weight of the trailer (2,210 lbs.) and the vehicle being towed (up to 5,290 lbs.).
Must have a towing system that has a 5,000 lbs. minimum weight-carrying rating
So trailer Weight=2,210 lbs when combined with the weight of your JK exceeds your total towing capacity as well as you need a min 5K tow carrying rating and curb weight of 1990 Wrangler below 3500lbs. Flat bed seems out of the question.
Let's look at a tow dolly.
https://www.uhaul.com/Trailers/Tow-Dolly-Rental/TD/
Must weigh at least 750 lbs. more than the vehicle being towed (4075-3062=1013lbs) OK here
Must have Class 2 tow hitch (3,500 lbs. minimum weight-carrying rating). Hmmm? it says Min weight carrying and Max is at 3500lbs with the tow package.
You may have a chance with using a tow dolly but best to check with the trailer facility.
---
Last edited by Rednroll; 03-29-2019 at

01:15 PM

.

03-29-2019, 01:41 PM
JK Junkie
Join Date: Feb 2012
Location: brick, nj
Posts: 2,827
Likes: 0

---
Physically should not be a problem. I towed a TJ using a tow dolly for about 100 miles using a mercury mountaineer that had 3500 tow capacity. Just be careful with stopping distances. Leave plenty of space. Uhaul may not rent a tow dolly to you.

03-29-2019, 01:53 PM
JK Jedi

---
You don't have a buddy you could call on for a solid favor to help drive it out and you drive em back? 150 miles isn't that great a distance to go through the hassle of renting a dang trailer.