Dana 44 gear ratio?

07-06-2019, 08:05 AM
JK Newbie
Join Date: Jul 2019
Location: Winamac
Posts: 1
Likes: 0
Received 0 Likes on 0 Posts
Dana 44 gear ratio?
---
I have a 2012 2dr Jeep jk sport, and I cant tell what gear ratio is in the back axle of my jeep. Its the stock dana 44 axle, but for some reason the previous owner must have taken the metal tag off of it with the information i need.

Im looking to swap out the front axle to a 44, but i cant order it until i have the right gear ratio to match the one i have.

any information would be helpful, i think its a 3.73 but im not certain. if nothing else, if there is another way for me to figure out what ratio it is i'd appreciate the insight.

07-06-2019, 09:38 AM
JK Jedi Master
Join Date: Jan 2008
Location: Texas
Posts: 10,957
Likes: 0

---
3.21 is most likely, 3.73 is the optional ratio.

Some options are:
Send in your VIN and request a build sheet. (won't help if the previous owner regeared...)
Pull the cover and count teeth.
Lift one corner, spin that tire and count driveshaft revolutions.
Measure your tires (measured, not what the mfg or sidewall says), jump on the freeway and note your rpm's at 70 mph, then plug the numbers into the gear chart.

07-07-2019, 05:23 AM

---
I am not sure that they are putting the tag on the rear covers any more. I looked for one on my 2013 last week when we had it on the lift, and it was not on it. I am 100% sure the cover has not been pulled on mine.
Do a search on a Jeep Build Sheet. The web site should pop up after a little looking. Add your VIN and it will tell how your Jeep was built, to include gears.

Bob

07-07-2019, 07:07 AM
JK Jedi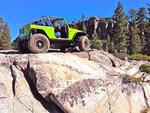 Join Date: Oct 2010
Location: Southwest Reno, NV
Posts: 5,195
Likes: 0

---
They don't put tags on the diffs anymore. best way is to jack tires off the ground and spin while counting the revolutions in the driveshaft. It will need to be in neutral.

07-14-2019, 12:48 PM
JK Newbie
Join Date: Dec 2018
Location: Calgary, AB, Canada
Posts: 16
Likes: 0

---
Most Autos had 3.21 most manuals have 3.73. That means most not all. Manual at 60mph with stock 32" tires will say 1950rpm with 3.73. Gives you a rough idea. Not sure what the auto OD ratio is so can't say what that might be.

07-14-2019, 01:50 PM
JK Jedi Master

Join Date: Feb 2008
Location: Maine
Posts: 12,546
Likes: 0

---
Chock the rear wheels.

Jack one front tire off the ground.
Put a chalk mark on the tire and the drive shaft.
Rotate the tire by hand 2 complete revolutions while counting the drive shaft turns.
The number will be your gear ratio.
A little less than 3¼ turns will be 3.21 gears.
About 3¾ turns will be 3.73 gears.
A little over 4 turns will be 4.10 gears.
About 4½ turns will be 4.56 gears
A little less than 5 turns will be 4.88 gears