DIY Solution to Bestop Trektop NX Full Convertible

06-02-2015, 09:04 AM
JK Newbie
DIY Solution to Bestop Trektop NX Full Convertible
---
After a year of having a hard top on my JKU, I quickly realized some major downfalls. While it was nice in the winter, I could not go completely topless without the assistance of another person, and I could not just put the top back on when the temperature dropped or started raining. Like many hard top Jeepers, I made the choice to go with a soft top for the summer, I chose the Bestop Trektop NX. The soft top was great, as I could easily go sun rider at a stop light, and unzip the back windows when ever I wanted. However, despite all the great features of the top, you still could not take the top with you if you wanted to go full convertible...until now.
I came up with (2) solutions for JKU owners. Before I start, I want to say I am not responsible for any damage or injury that occurs if you attempt to follow this thread, perform at your own risk. Also, I do not work for or promote Bestop, just a fellow Jeeper trying to help out the community! (PS: Bestop I do have bachelor's in mechanical engineering, PM me

)
The first solution is straight forward and free, but leaves a little to be desired. I'm calling it the 95% Convertible.
Solution 1: 95% Convertible (est time: 10 min)
Step 1: Unzip and remove all windows.
Step 2: Fold Sunrider back, exposing the front seats to sunlight.
Step 3: Unhook tension springs on both sides.
Step 4: Unhook rear bow from brackets, but keep bow in the soft top. Secure with the same clips in the soft top that secure the bow to the brackets.
Step 5: Fold the Sunrider top back over the driver/passenger seats but do not latch.
Step 6: Unhook the middle bow straps from the sound bar.
Step 7: Roll the top from the back (with the rear bow and middle bow in it) all the way to the front, and remove the front and rear aluminum support bow. This is what it should look like (I left my front support bow in place):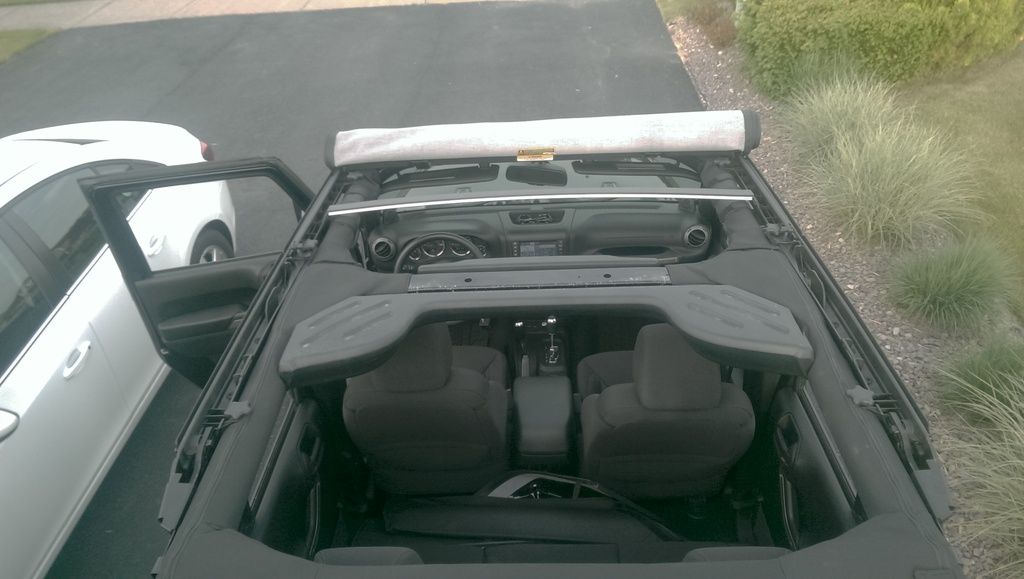 Step 8: Fold the header bar over the back seats and secure with bungees/rope/tie down/nylon strap to prevent unraveling.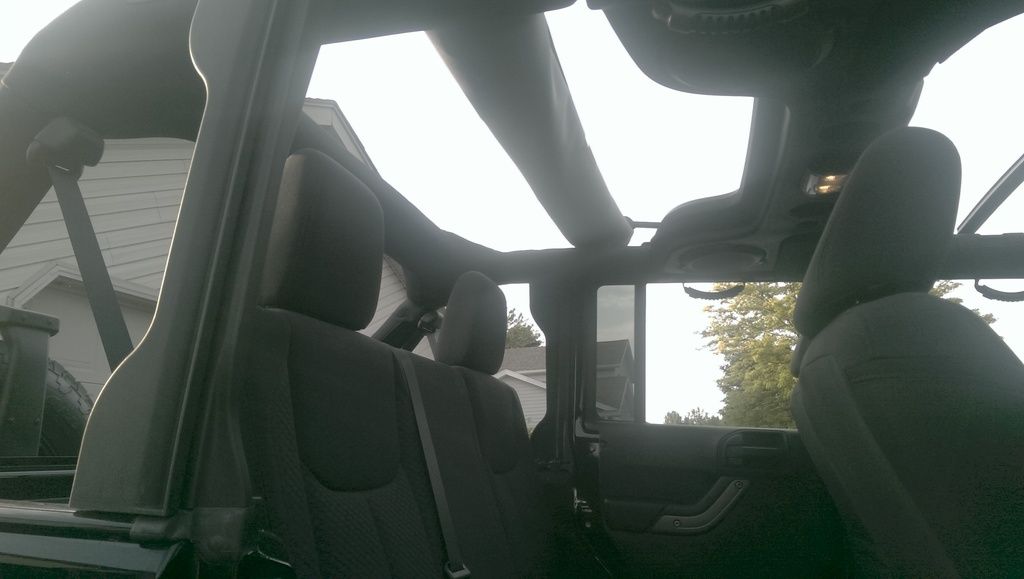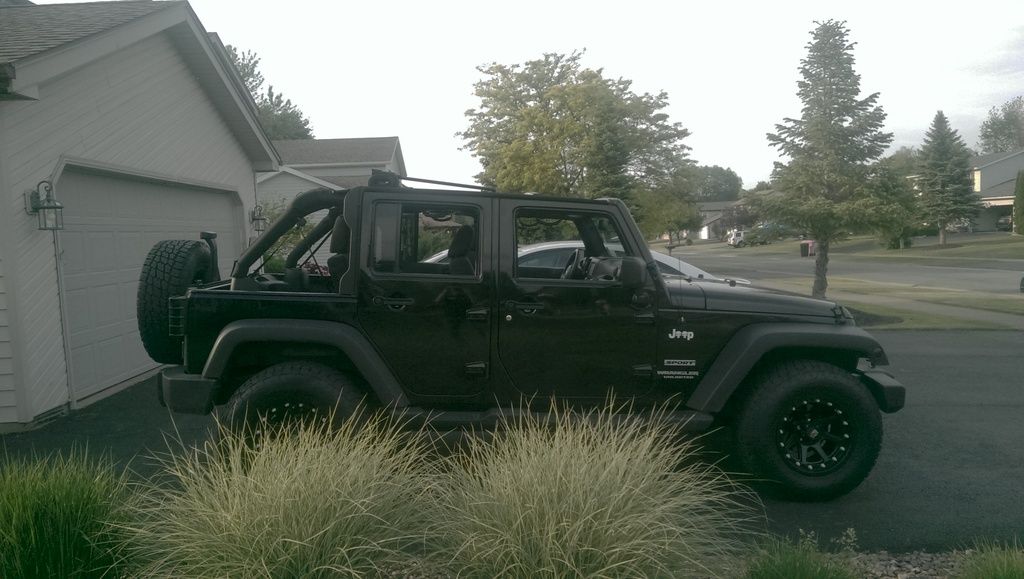 This works great at a moment's notice, and is very easy. However, most of the time when I go to concerts or the beach, I have people in my back seat. I sat back there with the top in this position and it is "ok". You still get the open air feeling, but you are still stuck with this bar above your head, so I let my creative side come out a bit…
Solution 2: Full Convertible Storage Brackets (est time: 2 beers)
What you need:
-(2) Factory Hardtop Bolts and retainers
-(2) 3" Zinc Plated Corner Brace (come in a 4 pack at Home Depot for $4, but I found mine in my misc bolts drawer in my garage)
-21/64" drill bit (we are only drilling the corner braces, not the Jeep)
-Grinder or Dremel
Step 1: Open up (1) hole (farthest from the bend) on both brackets using a 21/64" drill bit. This will allow the factory hard top bolt to go through the bracket.
Step 2: Grind radius into brackets. This is not the same leg as the hole in Step 1. The driver side bracket will have the radius on the left side (looking at the bracket with leg towards you, see picture under step 3), and the passenger side bracket will have the radius on the right side. You can make a full radius on both brackets to make them interchangeable.
Step 3: Clean up any sharp edges or burrs. Wrap the leg of each bracket with the bolt hole with duck tape or put adhesive foam on bottom to prevent scratching, and secure it to the last hard top point on the bed rail with the factory bolt and retainer.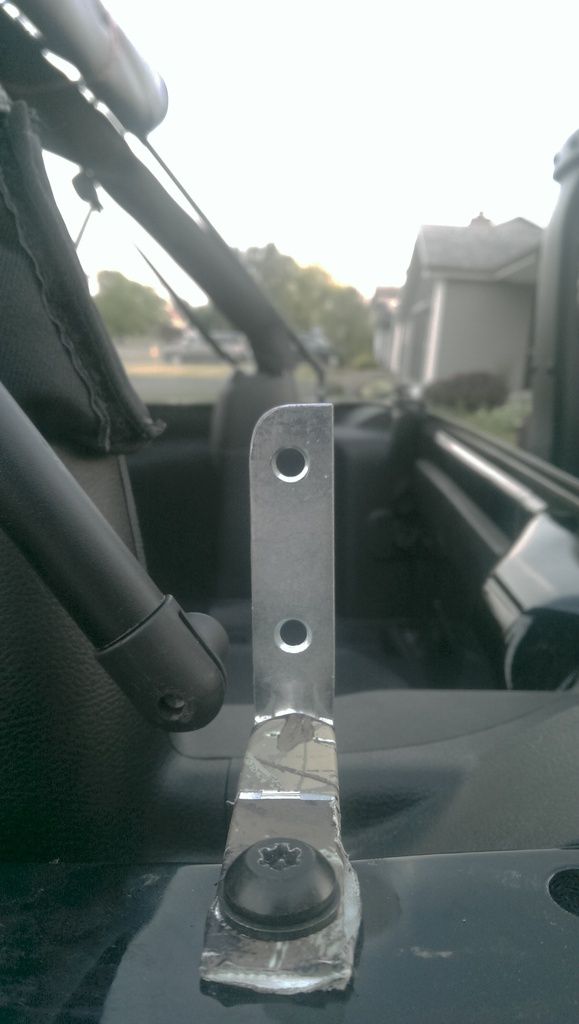 Step 4: Perform all steps from Solution 1 "Rolled Up 95% Convertible".
Step 5: Unhinge Sunrider bars from pivot points.
Step 6: Rotate Sunrider support bars towards the back of the Jeep and carefully move so support bar pins are near the brackets.
Step 7: Clip Support bars into holes.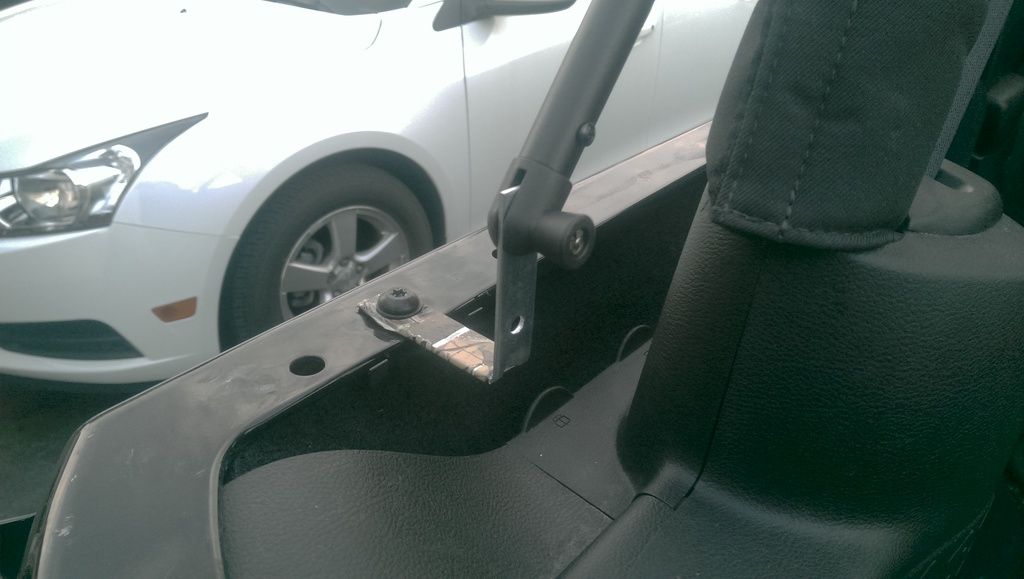 Step 8: Using bungees/nylon straps/rope, secure the header bar to the back of the roll bar.
That's it! Now you can store your Trektop in the Jeep and not take up cargo space. Once you get the brackets mounted, they do not need to be removed when you put the Trektop NX back on, they clear just fine. I plan on painting them with a coat of bed liner or textured paint and using some adhesive foam in lue of the duck tape for clean look.
After the brackets are made, the entire process of removing the top and storing it takes ~15 minutes by yourself. I timed myself putting everything back together for the first time (including windows), and it took me 17 minutes.
Edit: Thanks Dodge4me for the link showing what to do with the windows as well!
https://youtu.be/rVSGej8FJ_Y
I hope this helps anyone with a JKU Trektop NX!
---
Last edited by Dmjr228; 06-02-2015 at

09:31 AM

.

06-02-2015, 09:24 AM
JK Enthusiast
Join Date: Mar 2014
Location: Bothell, WA
Posts: 356
Likes: 0
Received 0 Likes on 0 Posts

06-02-2015, 12:46 PM
JK Enthusiast
Join Date: Mar 2014
Location: Bothell, WA
Posts: 356
Likes: 0
Received 0 Likes on 0 Posts

---
I've generally just laid the whole top rolled up as you have it, across the back gate and bungeed it down there. I like your mount idea and am going to do this. Looks very secure. We just now have to find a way to lock it on to keep it from disappearing.
Now that I think about it, what would stop us from rolling the windows into the top as well, with cloth between them? This way you don't have to worry about having anything under the rear seats when the doors are off, but you still have your whole top, just in case!

06-02-2015, 05:29 PM
JK Newbie

---
A bike lock would work pretty well. Wrap it around the header bar and roll bar and we should be ok from thieves looking for an easy score. Not the best looking solution, but it's definitely easy and cheap...Plus it's the only thing that comes to mind right now.

I'm going to have to try wrapping the windows inside the top this weekend pending weather. That'd be nice because passengers like to put their hoodies, towels, purses, etc under the rear seats. Plus like you said, whenever you're doorless you know they'll be safe!

06-03-2015, 05:31 PM
JK Newbie
Join Date: Jan 2015
Location: Kansas City
Posts: 27
Received 0 Likes on 0 Posts

---
OK... you might have just saved me the trouble of selling my Trektop NX and buying a supertop, thank you for that. One question...Does anything keep the round black bar(the one that gets strapped to the sound bar, basically the hinge for the sunrider system) from sliding out of the rolled up top?