Evo Enforcer Owners Chime In

03-05-2019, 10:46 AM
Super Moderator

03-05-2019, 02:57 PM
JK Jedi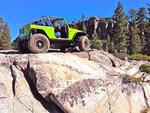 Join Date: Oct 2010
Location: Southwest Reno, NV
Posts: 5,157
Likes: 0

---
The enforcer is a decent kit, adjust on the jeep arms, quality finish, proven Johnny joints. Like said above any short arm set up will be about the same if you comparing kits with the same components. All will have the same geometry. Coil rates will differ e bit and shocks may be different. Personally I think Rock Krawler is junk and not worth the money as the quality of the product is poorer then Rough Country. For a daily driver that wants a great ride and a very capable off road jeep I would run a 2.5" metal cloak with 35" tires. Synergy would be my second choice . Synergy has adjust on the vehicle arms like the Enforcer arms do which is a plus if you like messing around with your suspension but is not worth the extra money if you are the kind of person that just wants to do it once. Metal Cloak and Synergy have self centering joints that keep things lined up and I give the nod to metal cloak as their joints are a bit softer and articulate easier then the Synergy joints. Their joints also offer vibration resistance that is superior to a ball and cartridge joint like many of the lift companies use. If you don't want to spend the money on a full set of control arms some relocation brackets would be recommended for some geometry correction that is actually better then adjustable control arms if you don't have clearance issues.

03-12-2019, 10:28 AM

---
Originally Posted by
MYJK!
Good Morning All
After doing some soul searching I sold my Harley and decided that I want to lift my 2014 JKUR. I have heard good things about the Enforcer lifts and I would love to hear some real world feed back.
Right now my JK is for the most part stock. I have done Nitro Sleeves and Synergy Gussets with a Teraflex leveling kit and have 315/70R17 Dynapro MT to install this week.
Thanks for reading and helping me with this.
Attachment 572178
They have a fairly good series of more extreme suspensions, coiloveres, etc. Their normal, short arm lifts aren't any better than any of the other quality systems. They use Currie joints, and at one point Rancho (maybe still) made their springs. They stole a lot of their design elements from Synergy.
I'm like a lot of other folks, I don't like supporting companies who make their living trashing their competition on socal media, etc. The fact that Wayalife is one of their fanboys says a lot about their culture.