Headlight Mounts (Assemblies)

12-26-2017, 06:53 PM
JK Enthusiast
Join Date: Mar 2013
Location: NC
Posts: 207
Thanks: 0
Thanked 0 Times in 0 Posts

Headlight Mounts (Assemblies)
---
Has anyone used these or something like them to install headlights? If so does it replace the OEM assembly or connect to it?
https://www.ebay.com/itm/7-LED-Dayma....c100005.m1851
I noticed my wife's assemblies are broken where the adjustment screws are. The person before us must have pushed on them instead of using the screws or something.
Thanks

12-27-2017, 05:59 AM
JK Junkie
Join Date: Jun 2013
Location: Willow Park, TX
Posts: 3,479

---
I've never had a reason to look at something like that, but those look heck of a lot better than the factory plastic crap.

01-06-2018, 06:07 AM
JK Junkie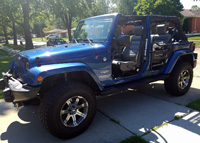 ---
Interesting, definitely keep us posted. Wondering if they allow for vert and horizontal adjust out of the box?

I installed LEDs last spring and added the horizontal adjustment screw mod while I was at it. It would be interesting to learn if these could serve the same purpose.

Another item of curiosity is that it mentions " Help to fix LED headlight firmly on fairing or nacelle". Well, with some of the inexpensive LED headlight replacements (such as the Daymakers), what has been noticed is that the right and left headlights are exactly the same, but the factory mounts are slightly different between the right and left, where what you end up doing is having to grind down one of the small tabs on the passenger headlight for proper fitment. My thought is that these headlight mounts are likely the same between right and left, and therefore LED headlight replacements would require none of the minor modification.

01-06-2018, 03:01 PM
JK Newbie
Join Date: Jul 2014
Location: Galivants Ferry, SC
Posts: 16
Thanks: 0
Thanked 0 Times in 0 Posts

---
I got tired of the weathering of the plastic housings on my '09 JKU so I ordered a pair of conversion harnesses and installed H6024 bulbs (Sylvania Silverstar)
All glass bulbs and they are the same as the ones in my wife's '06 Unlimited LJ. They fit and line up exactly like the housings.

01-07-2018, 09:28 PM
JK Enthusiast
Join Date: Mar 2013
Location: NC
Posts: 207
Thanks: 0
Thanked 0 Times in 0 Posts

---
Ok I didn't get to it this weekend due to a few things, mostly the temperatures here in the south. But I will this week and will let you guys know and try to take a few pics also.

01-09-2018, 12:42 PM
JK Junkie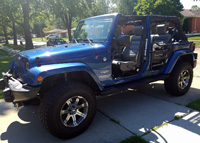 ---
Originally Posted by
lessonstar
Usually is Plug and Play type, easy to install.So there's no installation problem.My car use
Novsight
for a long time.
Sounds great. Maybe you should consider becoming a forum sponsor like all the rest of the respectable vendors do on this forum, so you don't come across as some DB company spamming conversations with really poor English speaking skills that don't seem to make any sense. Google translate has a tendency to do that.
You know we can look at your post history and see a common theme in all your responses right?