Jeep JK Tubular Fender Style HELP!

03-16-2019, 08:01 PM
JK Newbie
Join Date: Mar 2019
Location: Abbotsford
Posts: 1
Likes: 0
Received 0 Likes on 0 Posts
Jeep JK Tubular Fender Style HELP!
---
Hey all,
I'm new here and was just wondering if someone would be able to help me with my rig.
I was looking at the "Havoc Offroad Gen 2 Wrecking Ball Front Bumper" (
https://www.havocoffroad.com/havoc-o...ht-cutout.html
) and I like the fenders that they have on there.
My only problem is I don't know where to find them!! The closest ones are the "Snyper Tubular Fender Flares" but they aren't as wide as the Havoc ones.
If anyone could help me find similar style ones that have the side marker built in, and longer width, I would greatly appreciate it!!!
Thanks!

03-17-2019, 04:46 AM
Super Moderator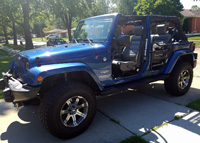 ---
Could be metalcloak. Look at their hardline fenders.
https://metalcloak.com/jeep-jk-wrang...ody-armor.html
Could be the Aries
https://www.amazon.com/1500201-Textured-Aluminum-Fender-Flares/dp/B00B1CL0BO/ref=sr_1_4?hvadid=198197860475&hvdev=c&hvlocphy=9016843&hvnetw=g&hvpos=1t1&hvqmt=e&hvrand=6926501745170411745&hvtargid=aud-648454669636%3Akwd-334200847103&keywords=aries+jk+fenders&qid=1552826650&s=gateway&sr=8-4&tag=googhydr-20
Could be the Barricades
https://www.extremeterrain.com/barricade-tubular-fender-flares-0717-jk-1.html?utm_content=XT%20Exterior%20-%20Fender%20Flares%7CBarricade&T5_Var4=J107018&int l=0&utm_campaign=XTW+Wrangler+Brands+Medium+RLSA&d ialogtech=ppc&utm_source=google-pla&utm_medium=shopping&T5_Var2=shopping&T5_Var3=o range&gclid=CjwKCAjw4LfkBRBDEiwAc2DSlKiWmw_E2T8bw4 iMV2cBWm1kXzLpMkk3zRpEtuo-R605P7GZ1REPXhoCKbEQAvD_BwE&gclsrc=aw.ds
I dunno....they all look pretty similar to me. If I could afford it, I'ld get the metalcloak but since I can't, I'ld get the Aries since they make pretty good stuff at a good price. Barricade I likely wouldn't consider since their stuff rusts.
---
Last edited by Rednroll; 03-17-2019 at

04:55 AM

.

03-17-2019, 07:12 AM
JK Jedi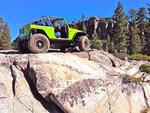 Join Date: Oct 2010
Location: Southwest Reno, NV
Posts: 5,161
Likes: 0

---
Yep, bushwhackers. They are light a pain to install and don't like trees. If you don't wheel they are a good looking fender with good coverage. It you wheel and rub on stuff than I would look for something else.

03-18-2019, 07:35 AM
JK Enthusiast
Join Date: Apr 2014
Location: Anaheim, ca
Posts: 492
Likes: 0

---
Those are Bushwackers, they are plastic and I've ripped the driver rear off going down big sluice quite a few times and deformed the fronts on trees on Dusy. They do not flex much and tend to put a lot of pressure on the body panels.