Lift Brands for F-150 help?

01-09-2018, 10:53 AM
JK Newbie
Join Date: Feb 2016
Location: Tampa Bay, Florida / Tallahassee, Florida
Posts: 78
Thanks: 0
Thanked 0 Times in 0 Posts

Lift Brands for F-150 help?
---
Hey guys, to start off I am going to say I own an 09 jku with a mix of part brands like teraflex, jks, fox, ect.. I'm here for my dad because just bought a 17' F-150 with a 6" lift. I'm almost certain that the lift will be rough country and I wanna change out the parts for him. He wont be doing off roading most likely but when i bought my jeep i started with rough country kit and worked my way to changing all the parts and getting the parts it was missing. Now im completely changed out and love my jeep, so what im asking is what lifts, brands, and parts are there for the f150 other than RC if you own or know someone with? Brands reputable as teraflex, not too expesive since he wont most likely go offroading. When i say parts im talking about drag link, control arm, tract bar, stuff that will improve the steering back to normal like it did mine. Thanks, and Sorry for asking an f-150 queastion on this forum I figured someone on here know some stuff about it!!

01-09-2018, 12:36 PM
JK Junkie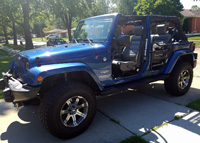 ---
I have no idea. The lifts that I heard were popular on pickup trucks were made by Rough Country or Zone 4x4, neither brand gets rave reviews by the JK community but I heard Zone is the better of the 2. Sorry, I don't have anything more than that. It sounds like it's time for you to join a F150 forum, ask the typical "Which is the best lift" and have everyone argue over which is the best like what happens on the JK boards.