MBRP roof rack

02-13-2018, 05:02 PM
JK Newbie
Join Date: Jun 2015
Location: Waxahachie, Texas
Posts: 20
Thanks: 0
Thanked 0 Times in 0 Posts

MBRP roof rack
---
For anyone who has this roof rack, after installing did you notice more squeaking? Thinking about getting one but don't want annoying squeaks.

02-14-2018, 02:27 PM
JK Newbie
Join Date: Oct 2014
Location: Haslet, Texas
Posts: 2
Thanks: 0
Thanked 0 Times in 0 Posts

---
I have the Off Camber Fab by MBRP roof rack and basket for my JKU. It adds a little more wind noise. But it's not bad. My stock tailgate rattles a little but I dont notice the top squeaking. I've loaded it up a couple of times with camping gear and it did great. Lets me haul a lot more stuff. Dont really notice that it's there other than the wind noise with the basket on. It's seems very sturdy too. I really didnt like drilling into my hardtop but I needed the extra space to haul stuff.

02-15-2018, 05:27 AM
JK Newbie
Join Date: Oct 2014
Location: Haslet, Texas
Posts: 2
Thanks: 0
Thanked 0 Times in 0 Posts

---
I plan on making some long trips and didnt want to pull a trailer. This rack works really well. I just have the half rack but you can make it a full length rack. I have to take the basket off to park in the garage. It just barely clears with the rack on there.

But I just bought a small enclosed trailer off craigslist that I'm gonna try out for camping. I'm taking my family camping in New Mexico during spring break and see if I like the trailer more. If I do, I may end up selling the roof rack and basket.

02-19-2018, 01:45 AM
JK Jedi Master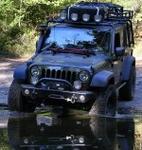 ---
Ditto the lack of squeaks. Wind noise on my (modified) rack can be quite noise, but that's mostly because of the lights I have. Back when I had the lights mounted on the basic rack (without extension), everything was pretty quiet. My only real complaint about the rack is the powdercoat was not very well applied. It's peeled a lot around the bottom of each down rod and I have rust there. For comparison purposes, Shrockworks bumpers, which have been on the vehicle longer, have far less problems with this. Eventually I'll pull the rack and backet and have it powdercoated again. Other than that, rack really is nicely done.
Before adding the front extension. I added the light mounting bar. Spider Rock, Canyon de Chelly, AZ.
After adding front extension. It has been modified for ARB snorkel, and to add the second spare tire carrier. Franklin Bluff, Dalton Highway, AK
.
---
Last edited by Mark Doiron; 02-19-2018 at

01:47 AM

.

02-20-2018, 07:21 PM
JK Newbie
Join Date: Feb 2014
Location: Quakertown, PA
Posts: 34
Thanks: 0

---
I installed mine years back on my last 07 JKU. I was concerned at first about drilling my hardtop, but just man up and went through with it. Quite frankly I like how it turn out and was pleased with it.If I had to do it again, I'd make sure to run my roof lights wiring inside the tube before completing the installation. Never noticed any squeaking and not much of wind noise either (its a half rack not the full version).