MetalCloak 2.5" Dual-Rate Rocksport Installed

02-11-2018, 01:03 PM

MetalCloak 2.5" Dual-Rate Rocksport Installed
---
I was finally able to get my 2.5" Dual-Rate Rocksport lift on. I think it looks great and is definitely a better ride than the Teraflex leveling kit/VSS shocks. Now my caster is at 7.3 and 7.1 (up from 3.6 before). The alignment shop had it for almost 4 hours on Saturday trying to get it in spec. Come to find out the mechanic was adjusting both upper and lower front control arms at the same rate, then rechecking. What do I need to do to get the caster to around 5? I assume adjust either upper or lower, but not both.
What about the thrust angle? It was in spec before the lift. Do I have to have adjustable rear control arms to fix that?
My traction control and ABS light have been coming in since the lift, but the steering wheel ended up being about 90 degrees off. They fixed that in the alignment (we were too tired at 1am Saturday morning) and I'm hoping that it is a holdover code from that initial drive home. There was no code when they test drove it after the alignment, but they both came on at about 30 mph after I left, then again when pulling out of a restaurant, when the ABS activated for a split second. The ABS hasn't acted up while driving, only immediately after pulling away when I first start it. Then both lights went off at about 50 mph and I haven't seen them since.
I ended up using the old bolts for the lower sway bar disconnects instead of the quick release studs. The studs were a smaller diameter than the hole and just didn't seem to fit right unless we really tightened them up. Then the washer was deformed because it was pulling into the hole. When we did try to put the pin in, it was extremely tight and looked like it would mess up the rubber bushing, but there was not enough stud to put the washer between the bushing and the pin. Going to call MC on Monday to ask about it.
Overall, I gained about 3/4" in the front over the springs that were already there and 1.5" in the rear from stock.

02-12-2018, 08:43 AM
JK Junkie
Join Date: Jun 2013
Location: Willow Park, TX
Posts: 3,911

---
when you have both lower and upper adjustable arms, those lowers should be set to position the axle where you want, then use the uppers alone to set the caster. The only time I've ever had an out of spec thrust angle is when I mistakenly had the front lower control arms set at a different length. I was experimenting with something.....that did not work. You might just double check the measurements on the lower arms to confirm they are indeed the exact same length.

02-12-2018, 12:52 PM

---
Just got it back from another alignment shop who works with the local 4x4 place. Everything in spec except camber, which is just out. Had the traction control kick in when I was pulling out of the parking lot so I turned around and drove it with the mechanic, and nothing happened.

Thrust angle was due to the front trackbar, which when he showed me what to look for, I saw that one swaybar disconnect was up and down and the other was angled out. Now looks good.

I'm still learning. Thanks for all the input.

02-12-2018, 01:12 PM
JK Junkie
Join Date: Jun 2013
Location: Willow Park, TX
Posts: 3,911

---
Out of spec camber could be 1) bent axle....which is probably unlikely, 2) bad ball joint....which is probably more likely, 3) ball joint castle nuts that aren't torqued properly, or 4) C that was manufactured just out of spec.

You might just inspect your ball joint on that side to verify if there's an issue or not. Quick test is to jack up front axle so tire is a couple inches off the ground, I like to throw jack stands under it to stabilize the axle, then put a shovel/spade under the tire and use the handle as leverage to force upward movement in the knuckle. Inspect for movement there where the knuckle meets the BJ...both upper and lower.

If the ball joints are good, there's not really anything you can do to correct camber on these......outside of swapping to a different axle.

02-12-2018, 01:23 PM
JK Junkie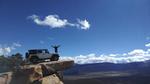 ---
your camber is so close to being in spec that I am sure the alignment guy told you that most come that way. here is a brand new 2018 that has 2000 miles and never even been on a dirt road. The majority of new JKs are coming with camber out of spec according to the local shop. my 2014 jkur and my 2016 JKR were also out of spec from brand new and never changed.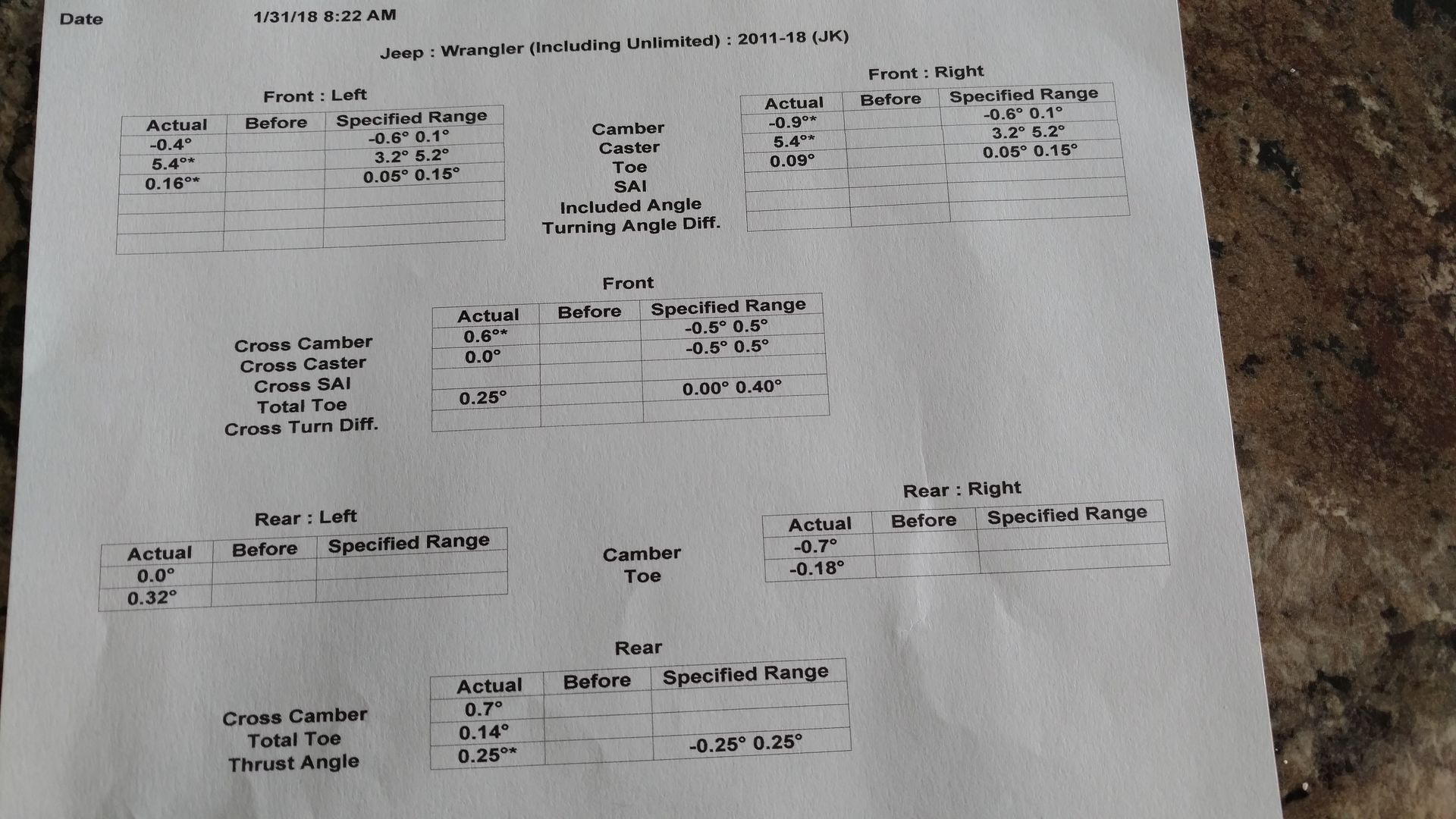 02-12-2018, 05:40 PM

---
Just left work and traction control and abs kicked in crossing the main road. Almost had me at a dead stop in the middle of traffic. Any reason the new lift would cause these to come on?

02-12-2018, 06:15 PM
JK Jedi Master
Join Date: Jan 2008
Location: Texas
Posts: 10,810
Thanks: 0

---
Even if the steering wheel looks centered, it might still be just that slight bit off. Do you have a ProCal, by chance? That would show when the computer thinks the steering wheel is straight.
Or maybe a loose or failing wheel sensor?