MetalCloak Jeep JK control arms catastrophic failure

03-23-2019, 06:36 PM
JK Enthusiast
Join Date: Feb 2012
Location: Brussels
Posts: 151
Likes: 0
Liked 0 Times in 0 Posts

MetalCloak Jeep JK control arms catastrophic failure
---
If you ever consider adjustable control arms for your Jeep JK from MetalCloak, check this before. Mere 2-3 of limited street and expedition use and the thread just rusted away. Just check the video in the link:
https://youtu.be/4Hueham8E08
Whats more, this catastrophic failure translates to uncontrollable driving behaviour (the truck suddenly shift by several feet with no driver input). Took several garages weeks to even find out what the culprit is.
Whats more - tried to write to MetalCloak and to send this video, but its been a week already and still no reply. Is this how they honor they warranty and customers lives?

03-24-2019, 01:13 AM
JK Jedi

---
Who installed that, you or a shop? Have to agree with Dirtman above. Not clear above about how long you've had those. 2-3 weeks? months? years?

Anything one does to modify a vehicle can be catastrophic if not installed or maintained properly. If you have adjustable control arms, you verify the jam nuts are torqued properly, then you mark them with a paint pen, and occasionally verify they haven't moved at all over time. Odds are you should have noticed something wrong way before you had that kind of failure. These things aren't like a Ron Popeil Showtime Oven where you "set it and forget it".

03-24-2019, 02:19 AM
Super Moderator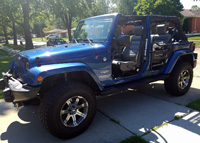 ---
Definitely sucks, but I agree with above. I didn't notice any paint markings on those jam nuts for the quick visual inspection when I watched the video. I'm unsure how the inner threads could rust if the jam nut was tight and red loc-tite was used on the threads which is common install practice for adjustable arms. There's 3 things needed for rust to occur. 1. oxygen 2. Water 3. bare metal. Oxygen and Water should have been eliminated from the inner threads if the jam nuts were properly tightened down with red loc-tite, so Dirtman's analysis seems like the most likely scenario.

03-24-2019, 10:11 AM
JK Newbie
Join Date: Aug 2017
Location: Dixon, CA
Posts: 12
Likes: 0
Liked 0 Times in 0 Posts

---
Looking at the video - I'm going to pile on here and agree with everyone else here. And this is coming from my 20+ years as a Heavy Equip./Diesel Mechanic for a Caterpillar dealer, along with taking Failure Analysis 1 and 2 from CAT Corp. training.
The rust look is more than likely Fretting Corrosion - You can look it up but here is the gist of it: Fretting corrosion is a phenomenon which occurs when two materials are submitted to friction under a slight relative motion.
Fretting damage in
steel
can be identified by the presence of a pitted surface and fine 'red' iron oxide dust resembling cocoa powder. Strictly this debris is not '
rust
' as its production requires no water.
The jam not was not torque correctly, which allowed the threads to work under load. If you installed the suspension kit, then you are your own warranty station. If you had a shop do it, you might have a recourse, but most kit install instructions and any shop worth their salt will tell you that everything should be re -torqued after so many miles.
As "Rednroll" said there were no paint marks reflecting that the final torques were applied to anything. I installed the Rubicon Express 3.5" Super-Flex Short Arm kit myself 3 years ago and I can still see all the blue and white paint marks on all the bolts and nuts that I applied the final torque at assembly and when I re-torqued everything after a period of time. The marking of parts is a thing I learned many years ago as part of our dealership's quality control. It is too easy to walk away for a second, take a break, or get distracted (especially at home) and forget where you left off. Marking items with a paint pen when the final torque or torque turn is applied, is a good habit to get into. Especially on steering, suspension, & brake components come into play.

04-02-2019, 12:32 PM

---
I have been running (same) Metalcloaks for years. Had some welding done on brackets the other day... arms look brand new. And MetalCloak is ultra response. It's like they are taking notes when I talk to them... ask a ton of questions before offering any advice.

04-03-2019, 12:11 AM

---
I agree with the statements above as well with the jam nuts not being torqued. I would also like to point out that a lot of Jeep owners that have their work done in a shop are not keen to inspecting shop work, which in my experience with various shops in my area is a huge problem. Namely a shop that is widely known and owns a vast majority of aftermarket companies. I've had exceedingly shoty work come from them, including not having any suspension parts torqued at all after getting an alignment on a freshly installed long arm kit. So I can see why the OP may have not checked for shop work and accuracy cause that's why your paying them. One thing I hate is when they say to verify everything after so many miles, or after every wheeling trip. In my opinion, it's a way of shifting shoty work to the owner. After various experiences with a certain shop I without a doubt verify work done afterwards.
Sorry to hear about the control arms. As everyone stated about metalcloak, I agree with them being a very stand up reputable company. I would look more at the installer than the maker also.

04-13-2019, 10:46 AM
JK Newbie
Join Date: Aug 2017
Location: Dixon, CA
Posts: 12
Likes: 0
Liked 0 Times in 0 Posts

---
I've got a few comments that I'd like to add.
PET77, if you have a problem with a manufacturer's components, you really need to make a phone call, and talk to one of their technical people, don't send an email and expect immediate help. It is way better to talk to someone in person. The only MetalCloak component I have right now is their Crawler rear bumper, which I really like. I don't have a dog in the fight here because I have a Rubicon Express Lift, but if I were to choose a lift kit again today, I would probably go with MetalCloak's Game Changer Rock Sport 3.5". I really like the innovation and quality of their products. I've stopped by their earlier Rancho Cordova shop and you couldn't meet a nicer bunch of guys that want to help you.
Not trying to offend anyone, but you should really recheck tightness/torque on suspension components after they are installed, and I usually will recheck items several times that I notice take up a little bit until they hold their torque. I rarely have shops do work for me, but when I do, I always check or look over their work. Things that are on a taper, like ball joints and tie rod ends, or flat machined joints, won't come loose if they are clean and torqued right during assembly. But areas that will twist or flex really need to be rechecked. I usually recheck stuff after the first 50 miles and I always slide under my rig with a creeper to look things over before I go on a hard trail run and after.
This is right out of my Rubicon Short Arm Kit install instructions:
H. Retighten all bolts after 50 miles and again after every off road excursion.
I've been turning wrenches most of my life and I always mark everything during the initial torque during assembly, and my first recheck of everything. After that, I just check tightness with a wrench or socket before/after runs.
This is a picture of my upper track bar joint with my original paint marks that still show after 3 years: (I know I don't live in a harsh climate, so stuff like this still shows up after 3 years. And I hate the snow, so no snow runs for me.)
There are allot of members on this site that are way more experienced at modifying the JK series of Jeeps than I am. They are very honest on what works and what doesn't work. I've owned CJ's since 1972, but the JK's are new to me. Just reading what members here have to say has really helped me build my JK.