Need help finding what fender flares these are

01-08-2018, 05:57 AM
JK Newbie

Need help finding what fender flares these are
---
I have been searching for months for the fender flares in these extream terrain jeep photos. I've even sent them an email asking about them but they aren't sure either. Really want to have these on my build but having no luck identifying them.

01-08-2018, 11:56 AM
JK Junkie
Join Date: Jun 2013
Location: Willow Park, TX
Posts: 3,479

---
I can't help identify em, but what does that say about a retailer that can't tell you about product on a promotional pic for their company?


01-08-2018, 06:34 PM
JK Super Freak
Join Date: Jun 2011
Location: Oxford, AL
Posts: 1,143
Thanks: 0

---
Originally Posted by
cedarraider
Those are INNER fender liners

01-09-2018, 09:05 AM
JK Junkie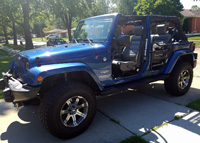 ---

01-11-2018, 01:59 PM
JK Newbie

---
Holy hell though, I believe I found them! Looking up warrior fenders they poped up in a related image. Figures after months of looking and finally posting here I'd stumble upon them. There was a lot of similar flat fenders but none quite like it. With the flat folded down sides instead of tubes. Couldn't tell if they were plastic or a metal. They ended up being steel fenders from a company called e-autogrilles for anyone else who may be interested. Thank you everyone who took the time and looked for me! Seem to be decent enough. Here they are: