Please help with choosing lockers for my needs...

01-27-2019, 07:25 PM
JK Newbie
Join Date: Feb 2017
Location: Coastal Bend
Posts: 71
Received 0 Likes on 0 Posts

Please help with choosing lockers for my needs...
---
Hi friends. Im upgrading gears from my 3.73 to 4.56. I run 33's but wanted the option for 35's if needed down the road. My 2013 JKU is the automatic oscar mike edition with the 27-spline dana 30 front and 30-spline dana 44 rear.

Im not hardcore rockcrawling but use my rig as a dd and as an overlanding vehicle and would like to venture more into moderate to heavy trails (utah, nevada etc.) without being towed out each trip. Nothing extreme but want to be able access most trails in my rig.

That being said can you help me narrow down my options regarding lockers? Detroit trutac for the dana 30 seems highly recommended but what about the dana 44 for the rear?

I would like to have the locker set purchased under $1500 if possible.

Direct links much appreciated as Im a Veteran with a TBI.

Thanks for all of your knowledge from this forum.
---
Last edited by TxCoastie; 01-28-2019 at

06:29 AM

.

01-28-2019, 04:55 AM
Super Moderator

---
I wouldn't lock the front. It'll last much longer if you leave it alone, and just regear it.
As for the rear, I would beef it up once and never look back. You can run 35 spline shafts in the rear standard D44 (Sport, Sahara, etc.). Paired with a 35 spline ARB locker, you'll have a beefy axle that can comfortably handle up to 37's. Then if you ever replace the front axle with something beefier, you can leave the rear alone.
35 spline shafts can be had for $400:
https://www.northridge4x4.com/part/a...47-rd157-32-50
Paired with a 35 spline ARB for ~$1k:
https://www.northridge4x4.com/part/l...-3-73-and-down
I can't say I recommend e-lockers. The Eaton 4-pin lockers aren't anything to write home about, I managed to break mine in under 2 years.
Again, I have to stress this: do not lock that D30. It'll shorten it's life span, and the axle isn't worth the money you're about to throw at it.
---
Last edited by BoraBora; 01-28-2019 at

04:58 AM

.

01-28-2019, 11:40 AM
JK Jedi Master
Join Date: Jan 2008
Location: Texas
Posts: 10,943
Likes: 0

---

01-29-2019, 08:46 AM
JK Enthusiast

---
It's a pay once, cry once situation here. As suggested, I wouldn't throw any money at the D30 up front as that is the weak link. I'd suggest finding a D44 from a Rubicon for the front, and possibly the rear, and going that route. A locked rear will get you the most bang for the buck, and I'm a huge fan of the ARB products and customer support. Besides, it's always handy to have a compressor on the trail. Add a tank and air up tires, run tools, etc.

01-31-2019, 12:24 AM
JK Newbie

---
Throw a lunch box locker in the front...... yes even a Dana 30.
Hell you can wheel that and have a lot of fun. It will double or
more the trails you can go on. You need to go with a selectable
locker in the rear in my opinion. I personally like electronic
lockers better than air lockers. I ran Eaton E-lockers for years.

I also prefer using a CO2 tank....more versatile for other uses
around the house etc...
---
Last edited by JKUsport16; 01-31-2019 at

12:27 AM

.

02-04-2019, 12:10 PM
JK Enthusiast
Join Date: Feb 2011
Location: Conifer, CO
Posts: 405
Likes: 0
Received 0 Likes on 0 Posts

---
FYI, Northridge is having a sale right now where you get the compressor for free with the purchase of an ARB locker. Saw some email come across advertising it this weekend. I haven't price shopped though, so not much help beyond that tid bit.

02-04-2019, 03:46 PM
JK Enthusiast

---
Two is one, one is none. I've got a tank as well. Came in handy around the house when the CO2 tank on my kegerator ran out. I've also got fittings to plumb the tank into the air system on the Jeep to run the lockers in the event I have a compressor go down, which I've had happen, even with the twin ARB unit, while I was in Moab. ARB was awesome with support and warranty, but a backup plan is always a great idea as things break, tanks go empty, shit happens.

02-04-2019, 11:40 PM
JK Newbie

---
A tank should never go empty on the trails. I know how my much empty
tank weighs so before a trail ride I can weigh it if I'm not sure what's left in
it. I certainly made sure before Moab and Colorado that I had a full tank.

02-05-2019, 04:19 AM
Super Moderator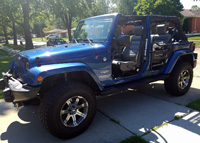 ---
It probably needs to be mentioned that the OP is looking at the Detroit TrueTrac which is a mechanical LSD and not a locker. Thus, having a fully locked front axle should not be a problem if installing a Detroit TrueTrac.
I'm in this same boat and have decided eventually I will be going with Detroit TrueTrac LSDs front and rear instead of lockers which I feel will be best for my uses which sounds similar to what the OP is trying to achieve. I know everyone recommends to not invest too much in the front Dana 30, but the difficult decision becomes if you're re-gearing which the OP will be doing, everyone usually agrees it's best to add a traction device be it a LSD or Locker during that re-gear since you're already being charged for the labor for the re-gear which will be the same as adding a Locker or LSD.
The tough decision becomes in deciding to wait to do this by investing in a front HD Dana44 or use the existing Dana 30.
So if he's going to have to re-gear that front Dana 30 anyways, wouldn't it make sense for essentially the cost of the traction device to include it with the re-gear work? He's talking about an LSD and not a locker, so does that change things?
We're really talking about a $400-$600 additional cost of the traction device for the D30, in this case the TrueTrac LSD. Holding off to wait and get a HD D44, adds an additional $2500+ to the equation along with the labor costs of removing and installing the new axle.
The TrueTrac also doesn't need the air compressor, CO2, or any other additional items to engage it. It works by sensing there is a loss of traction on one tire and then automatically locks the axle to transfer power to the other side. That's the nice thing about an LSD, it's there when you need it and engages/disengages when you don't and you don't have to be concerned with the setup of getting the other items to lock a locker.
---
Last edited by Rednroll; 02-05-2019 at

05:18 AM

.