A quiet commute tire

03-11-2019, 03:19 AM
JK Newbie
Join Date: Feb 2019
Location: Cypress, TX
Posts: 12
Likes: 0
Received 0 Likes on 0 Posts

MTZs
---
They may not be quiet in a 35" on your jeep, but they are quiet in a 33"on all 5 of mine. The size really shouldn't make much difference, so maybe you have more sensitive ears or your running with your doors off.

03-11-2019, 09:44 AM
JK Newbie
Join Date: Feb 2019
Location: Cypress, TX
Posts: 12
Likes: 0
Received 0 Likes on 0 Posts

---
The word "loud" is subjective. Kinda like "a long ways away". Would that be 2 miles, 780 miles or 3,600 miles? Depends upon your perspective. The MTZs are not "loud" to me. I have had some mud "grappler" types that were louder than my wife and these, by comparison, are not. So, for you, I will concede that they must be loud. Nice Jeeps.

03-11-2019, 11:23 AM
Super Moderator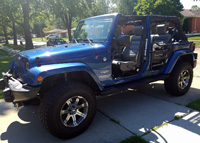 ---
Yeah, it's all relative. It's kind of like saying my radio alarm clock is loud but if I was comparing that alarm clock to my stereo system in my JK then my alarm clock is pretty quiet. From what I've seen, Karl has a lot of experience with many of the more popular tires often recommended on the forums so if he says the MTZ's are loud, I'ld tend to agree, especially taking into consideration the MTZ is not an A/T tire....it's a mud-terrain tire. I have BFG KO2's, to me they're relatively quiet but before those I was running the stock Bridgestone Dueler A/Ts...both are A/Ts but the Bridestones were definitely quieter than the KO2's and to me when I read the OP's question I felt he needed to be a little more specific in regards to "quiet". If he stated he was looking for a quiet Mud-Terrain which is kind of an oxy-moron to begin with then the MTZs would likely be at the top of the list. A quiet A/T-M/T hybrid then the KO2s would be at the top. A quiet A/T then I would put the Bridgestones ahead of the KO2's.

03-12-2019, 10:22 AM