Recommend a OBD/ABS/SRS Scan tool

04-23-2019, 08:48 AM
JK Enthusiast
Join Date: May 2013
Location: Texarkana, TX
Posts: 324
Likes: 0
Received 0 Likes on 0 Posts

Recommend a OBD/ABS/SRS Scan tool
---
Can anyone recommend a specific OBD/ABS/SRS scanner? From searching online reviews the Innova 3100J and BlueDriver come up quite often. Other brands such as Autel and Ancel pop up too along with other models of the Innova brand.

Any specific brand/model you'd recommend? Want one that can read OBD, ABS, SRS.

04-24-2019, 11:03 AM
Super Moderator

---
I use a cheap Bluetooth OBDII plug with the Torque App (I think it's Android only) for a good amount of stuff. I also have an Aeroforce Interceptor gauge that will read/clear codes. Finally, I have a cheap Harbor Freight scanner that will read/clear OBDII and ABS codes. None of these will activate the ABS purge process though.

I probably use the Torque App most of the time. The HF scanner has been useful in tracking down speed sensor issues.

04-24-2019, 04:33 PM
JK Newbie
Join Date: Mar 2019
Location: Alamogordo, NM
Posts: 8
Received 0 Likes on 0 Posts

---
i have a veepeak got it on amazon and it works as well as i need it to. i also use jscan for reading codes and up dating stuff like tire size. both the app and the bluetooth obd2 dongle are for both apple and android

04-24-2019, 05:56 PM
Super Moderator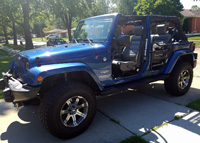 ---


4.5 star rating on Amazon with over 4000 reviews speaks highly to the capability and quality of it.