Regearing Math - What am I missing?

06-17-2017, 09:46 PM
JK Freak
Join Date: Feb 2012
Location: La Quinta California
Posts: 684
Thanks: 0
Thanked 0 Times in 0 Posts

---

06-18-2017, 07:31 AM
JK Super Freak

---
Whoa, whoa, whoa! Easy there Tex!

I was just asking an engineering question based on some information I was given, not arguing that what I'd come up with was right. I was trying to figure out why the math didn't match the charts I've seen. My intention was always to go with 4.56's or 4.88's based on reading forums for almost 10 years and owning numerous Jeeps.
The math question wasn't intended to reinvent the wheel, but just to understand the mechanics behind gear ratios is all.

06-18-2017, 07:50 AM
JK Jedi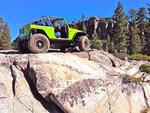 Join Date: Oct 2010
Location: Southwest Reno, NV
Posts: 4,910
Thanks: 0

---
The charts give you options for the performance vs mpg you want and other things should be taken into consideration like added drag, hills vs flat land, and weight of not only the new tires but the overall jeep. The math is just one part of the overall factor of choosing gears. You are trying to justify a gear choice based off one of many factors instead of looking the whole picture. A jeep that weighs 3500 pounds at sea level with 35's and 4.10 is going to feel way different then a 5000 pound jeep on 35's and 4.10 climbing 14% grades at 8000 feet.

a .10 difference in your math 3.99 vs 4.10 is not going to be really noticeable on the road as it is such a small change. Unless you are going change at least two gear sizes it is likely not worth the money due to the minimal change it will make in performance.

06-18-2017, 08:22 AM
JK Super Freak

---
I'm not sure if this comment was directed at me. I never stated I had an interest in going to 4.10's. Had I wanted them, it surely would have been easier to order them from the factory when I bought the JK. This was a math question based on guidelines I had seen on numerous sources that didn't match my own personal experiences nor any experience I've read about on numerous Jeep forums.
My intention has always been to move to either a 4.56 or 4.88 gearing ratio which should be a minimum 22% change. I agree that when you add several hundred pounds of steel and rubber to the Jeep more drastic changes are necessary and as always you've given good advice DirtMan.