Rock Krawler Suspension Open Tech Line for JK Forum Members

03-15-2019, 06:07 AM
JK Jedi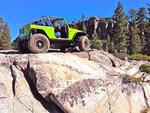 Join Date: Oct 2010
Location: Southwest Reno, NV
Posts: 5,161
Likes: 0

---

03-15-2019, 10:41 AM
Sponsoring Manufacturer
RockKrawler Representative

---
Great answers from Dirtman.

The real question is, what size tires do you want to run and what do you do with your Jeep?

03-16-2019, 08:19 AM

---
Originally Posted by
TheDirtman
You pick a lift to accommodate tire size not the other way around. Lifting for the sake of lifting does little for you except empty your wallet. Any lift that raises the vehicle 3.5" should accommodate a 37x12.5" tire on a 3.5-4" back spaced wheel. 17" wheels will give you the most options in tires to run. IF you are to run 37's at 3.5"+ of lift expect to do some axle reinforcement/upgrades, drive shafts, high steer, and new axle gears.
i would like to run 37's for ground clearance but I'm not sure the optimum backspace I should use is what I was trying to ask.
I should have phrased it better.
I am bouncing back between 35's though.

03-16-2019, 08:31 AM
JK Jedi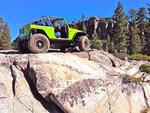 Join Date: Oct 2010
Location: Southwest Reno, NV
Posts: 5,161
Likes: 0

---
For a 37x12.5" tire you should be looking at 3"-3.5" BS. It really has nothing to do with width. Ideally you would run a 9" wheel with 4.5" BS for good steering and run a wider axle. Throwing that big heavy tire that far out is tough on the unit bearings and ball joints.

03-16-2019, 08:32 AM

---
i want to be able to get through a fair share of trails without a lot of drama. Doesn't really matter what I do to it because it's not my daily driver. It's just a toy.
im torn between the 3.5 X factor midarm w/ 35's and the 3.5 X factor long arm w/ 37's and flat fenders

03-17-2019, 12:45 PM
JK Newbie
Join Date: Nov 2018
Location: Vancouver Island
Posts: 4
Likes: 0
Received 0 Likes on 0 Posts

Max Travel Install
---
Hi guys, Just installed the 2.5 max travel recently.
After setting my rear upper CA straight in the bracket and torquing everything down, it seems to sit cockeyed after driving.
Lengths are set as per recommendation for 2.5" lift and have had an alignment. Is this normal?
after driving
after driving