Rough Riding Suspension Help!

04-18-2019, 04:03 AM

Rough Riding Suspension Help!
---
Hey everyone, i've looked at various threads regarding rough riding suspensions but i figured i'd start one on my behalf regarding my jk. Background i have 2017 Unlimited Sport. It rode rough the moment i bought it (brand new) so i started reading threads regarding this subject and came to the conclusion that was the way jeeps rode because of the solid axle and it wasn't supposed to ride like a cadillac. But i'm seriously thinking something was wrong from the moment i bought it because i've never rode in a vehicle that absorbs potholes, manholes, bumps, etc the way my jeep does. I've never rode in a different jk so i'm not sure how to compare it to others. I recently installed a MetalCloak True Dual Rate 2.5 lift kit with Rocksport shocks. I added 33x12.5x18 Atturo Trail Blade X/T tires with 18" MotoMetal wheels. Installed the wheels with 35 psi to start with and lowered down to 32 after reading some threads regarding tire psi. event went down to 30 as of two weeks ago. Now this does help somewhat but i still believe that only masks something else that's going on with my suspension. Everything was torqued to spec and retorqued after a week of driving. So in conclusion i need HELP figuring out what's wrong with my ride. Like i said it rode the same way before the lift and tires. Please help a fellow jeeper out regarding this subject because it's irritating me so much that i'm thinking of trading vehicles, which sucks because this is the funnest vehicle i've owned.

04-18-2019, 06:34 AM
JK Jedi

---
I really think you're just getting full taste of solid axle vehicle. You're eyeballs probably be buggin out if you drove a bit with Bilstein or Fox shocks on there cuz they are way stiffer. I looked on Atturo's website to see what those tires were rated, but didn't see it listed.....considering though your impression rolling off the lot through now hasn't changed, I think it's really just normal. Wrangler is what it is.....and it is definitely not well refined in any aspect except for off road purposes.

04-18-2019, 06:49 AM

---
Heck you should of taken a ride with me in my old suspension

. My girl used to not ride with me because it would cause her womenly gifts to move to much and it would hurt her back after a while
. It is natural for a Jeep to be rough, the suspension was never intended for it to be smooth and honestly with your MC when you get the full lift it will be about as smooth as it will get.

04-18-2019, 06:54 AM

---
Lmao! I just wasn't expecting it be this rough. I do plan on upgrading the rest of the control arms in due time to have the full game changer kit. I might switch up to some C or D range tires when the time comes. But every bump and pothole feels like i hit a crater haha

04-18-2019, 07:18 AM
JK Jedi

---
Your post reminds me of when I bought mine brand new. I drove 3 hours after work from DFW to Shreveport, LA to get it. Got it with wheels and 35s on it already. It was storming really bad, and as I pulled off the lot and got on the interstate, it wasn't but 5 minutes down the road that I had a freak out moment of "WHAT THE H3LL DID I JUST SPEND THIS MUCH MONEY ON?????"

it was definitely an adjustment.

04-18-2019, 07:23 AM

---
aint that the truth? i've owned a ram truck, chevy tahoe, chrysler 300, subaru wrx sti and i was like WTF when i hit my first big bump in this jeep 2 years ago. I've become adjusted to it but i was thinking there's got to be something to help ease the jarring lol

04-18-2019, 07:24 AM
JK Enthusiast

---
Maybe trying to find a buddy that'll let you take a ride in his would be worthwhile... It's all too subjective to be able to really say much, since your idea of a "rough" ride might feel like riding on a half melted stick of butter to someone else.

For example: My 2-door is on a stock suspension, except that I swapped the springs for a set from a 4-door Recon (the tallest, stiffest OEM springs available) and roll on 35" General Grabbers (E-rated, mostly for trophy trucks... they were cheap on Craigslist though, and do the job well enough for now) at ~38 PSI (yes, I know that's really high. I have my reasons!). I would think that to most people, that combination would feel like the most horrible thing imaginable, but it doesn't bother me one bit. Maybe it's 'cause I've just always driven trucks or jeeps, or because I'm just used to it...

TL;DR: Take a ride in another JK to get a sense of comparison. Maybe there is a problem, maybe there isn't, but I'd think you'd need a solid reference point to get a better idea.

04-18-2019, 07:27 AM

---
Ya you get used to it, I live in an are known for how terrible the roads are. Almost turns into a game on how many potholes i can hit on the way to work or the beach

04-18-2019, 04:51 PM
Super Moderator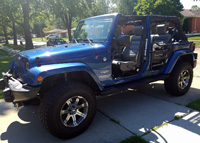 ---