Show what Santa brought for your Jeep

12-28-2017, 05:59 AM
JK Junkie
Join Date: Jun 2013
Location: Willow Park, TX
Posts: 3,911

12-28-2017, 07:44 PM
JK Enthusiast
Join Date: Jul 2016
Location: West Coast Florida
Posts: 143
Thanks: 0
Thanked 0 Times in 0 Posts

---
Ok, I'm trying the on the full site..
I got a Bolt Hood lock, mesh screen insert (had to totally rework it to fit), Alien Shade Mesh Top, Bartac paracord grips, Inspired Engineering Evo II Worx LED Headlights and Inspired Engineering LED Fogs. Santa really likes me or I was very very good this year!
---
Last edited by 2qik2see; 12-29-2017 at

03:13 AM

. Reason: I think I may have figured out the problem..

12-29-2017, 02:29 AM
JK Freak
Join Date: Aug 2012
Location: Charleston, SC
Posts: 591

---
B&M Racing Precision Sport Shift for $444.99 (delivered) direct from B&M Racing.

12-29-2017, 07:51 PM
Moderator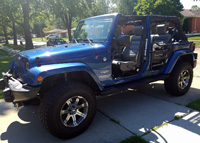 Join Date: Apr 2010
Location: SE Michigan
Posts: 3,743

---
Originally Posted by
resharp001
Santa is a damn bum!! I've had my jeep torn apart in the garage for two weeks now. It's prepped and taped for tub bedlining. I left 2 kits of Raptor Liner sitting right next to it.....needless to say he didn't do diddly squat even though that was the one thing I asked for! Starting to think he doesn't exist.
You guys are stand up fellas, so I'll let you in on a little secret.
Chocolate chip cookies and milk no longer work. Santa really seems to like those things throughout the year that we can't seem to wrap our heads around. Things like $400-$600 Michael Kors bags, $200 "Ugg" lambskin and "Hunter" rubber boots, an occasional shiney object for their finger, ears, wrist or neck and some inexpensive flowers sprinkled in now and then. I know...I know......we tend to look at those things and say, "Those $200 Hunter boots, look just like the $20 rubber work boots that we wear to stomp around in the mud". Just surrender to the fact that logic just does not exist and throw that way of thinking out the door. If you want to apply any logic, you just have to think of these things as an investment to be able to get the things you would like to receive in return that doesn't make any sense to Santa.
It's not that easy also. You need to be a good listener sometimes and actually listen to some things Santa is saying when you're locked into watching Saturday and Sunday football games and when you've reluctantly been dragged along to go to a shopping mall. You need to some how stay on top of what the latest fashion trend is, so you don't end up buying some expensive Prada bag, only to find out that Prada was out 5 years ago and it's some other name brand stamped on the same looking over priced hand bag.
The Following 3 Users Say Thank You to Rednroll For This Useful Post: