Show what Santa brought for your Jeep

01-10-2018, 06:36 PM
JK Newbie
Join Date: Jan 2018
Location: Alpine
Posts: 5
Thanked 0 Times in 0 Posts

Santa Brought Me a Jeep!
---
On December 18th, my TJ died after 10 years / 190,000 miles. Two days later, I was the proud owner of a 2015 JK, with only 7500 miles on it! Thanks, Santa!

01-10-2018, 09:01 PM
Moderator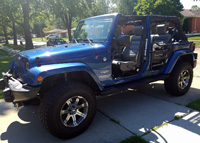 Join Date: Apr 2010
Location: SE Michigan
Posts: 3,743

01-11-2018, 05:43 AM
JK Newbie
Join Date: Jan 2018
Location: Alpine
Posts: 5
Thanked 0 Times in 0 Posts

01-16-2018, 06:10 AM

---
installed the set of
Garvin Wilderness Rock Rails
that i got for Christmas...
also received a
Teraflex spare tire mount
as a present to go with their
HD tire carrier hinge
that i've had for a while... prepping for larger tires in the next month or 2.