Terraflex 1.5" springs

03-15-2019, 07:03 PM

Terraflex 1.5" springs
---
Hello,
If I get the terraflex 1.5" springs instead of a spacer lift, will I need anything else to have a safe lift?
Things like longer sway bar disco's or bump stop extensions or shocks/ extensions? Perhaps new caster adjustment arms?
I'm sticking to a 1.5" lift for garage reasons... is there a better suggestion for a sub 2" lift? I'll be running 33" tires and mostly doing trails and over landing.
I appreciate the knowledge on this forum.
Thanks.
-LEX

03-16-2019, 02:29 AM
JK Jedi

---
If you are truly limited by a garage height, and you can't afford even .5 or 1" more, then you might want to think about just doing a spacer instead. When you put a spacer on top of a spring, you are going to see that direct difference in height. 2" spacer is going to net 2" difference in height. When you replace a spring, it's not that cut and dry. That spring could net different actual net lift heights on different vehicles based on weight/mods the vehicle has. It's just not as exact of a science. Just something to think about if it's relevant to your particular situation.

at 1.5", your sway bar links will be a little short. You might look at shock extenders or slightly longer shocks. You should re-assess bumpstops for any lift, shock length, or tire size changes along the way. Your axles won't shift much (side to side), so adjustable trackbars probably aren't worthwhile. The real rub is caster correction. Any lift is going to lower your caster. 1.5" isn't much extra, and control arm brackets would really eat up some ground clearance with that little lift. Adjustable control arms probably aren't worthwhile due to price relative to the lift. I'd probably live with the lower caster than use cam bolts. I'd guess that bit of lift would only drop you from 4.2* caster to around 3.8* or 3.9*, but that is just a guesstimate. You might just do the bump in height and see how it feels, then make a decision.

03-16-2019, 05:03 AM
JK Junkie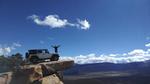 ---
I have used TF 1.5" coils RK 1.5" coils and spacers and both TF and RK give a nice ride. both lift the vehicle ~2" in front and ~1" in back. as was mentioned get some adjustable quick release front sway bar links ala JKS and something like a TF fixed sport arms for the lower front control arms.