Selecting the best Lift Kit

04-14-2019, 10:15 AM
JK Newbie
Join Date: Apr 2019
Location: El Paso
Posts: 0
Likes: 0
Liked 0 Times in 0 Posts

Selecting the best Lift Kit
---
Hello Everyone,
I not sure which lift kit would be best. I want to lift my jeep 4" and put 35" tires on my 2012 JK Rubicon. I don't plan on doing super crazy rock climbing, maybe small boulders I my have to crawl over from time to time. I mostly take my Jeep out in the sand or up in the mountains. I was looking at the MOPAR 4" kit, Vs others like
Teraflex, or whatever maybe better.

04-14-2019, 03:54 PM
JK Newbie
Join Date: Apr 2019
Location: El Paso
Posts: 0
Likes: 0
Liked 0 Times in 0 Posts

Selecting the best Lift Kit
---

04-14-2019, 07:07 PM
JK Enthusiast

---
I'm running 35's with trimmed fenders and a set of take-off coils from a JKU Recon I got on Craigslist for $100. It's a pretty cheap way to go for some extra height, and though not perfect, it's easy and gets the job done.

I decided on the slightly taller/stiffer coils to compensate for all my extra weight from bumpers, winch, etc. and to improve my breakover angle (which had proved a surprising limitation, for a 2-door). They work for me, until I can scrape together the cash for a proper lift.

04-15-2019, 04:27 AM
JK Jedi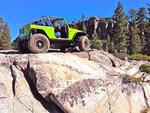 Join Date: Oct 2010
Location: Southwest Reno, NV
Posts: 5,124
Likes: 0

---
Originally Posted by
[email protected]
I don't necessarily want a 4", I'm looking for the best lift for 35" tires that will allow me to have a good performance on the road and ability to go off road crossing streams, deep rutted roads, and fairly steep climbs.
A stock jeep will do what you are wanting to do. I generally recommend Metal Cloak or Synergy. they both have a couple options for clearance of 35" tires.

04-15-2019, 09:33 AM
JK Jedi

---
If you're not picking up on what everyone is inferring.......you don't need 4" of lift to accommodate 35s. You should do what is necessary, and not worry about going higher as it will just cause headaches. As you see, you can get by with no lift at all, but if you just want a lifted vehicle, 2.5" and 35s is a really nice combination. There are so many ways to go about a 2-2.5" lift, but the one thing that remains consistent when lifting the JK, is adjusting caster in the process. If you're not familiar with that there are lots of threads to read up on, or I'm sure someone else can elaborate.