Anyone do any astrophotography?

01-08-2009, 04:07 AM
JK Freak
Join Date: Dec 2008
Location: Shreveport, LA
Posts: 712
Likes: 0
Received 0 Likes on 0 Posts

Anyone do any astrophotography?
---
I just started doing photography through my telescope last night. The first pics weren't so great but once I get a camera mount/t-adapter for my camera and scope I should be able to take some great shots. These pics are pics of the moon taken through the 4mm eyepiece. My scope is a Meade ETX-60. The camera is a Nikon S-6. Next time, I am going to use my Canon DSLR.
It seems that this sort of hobby lends itself to Jeepin' too! Take Jeep to trail that ends in a wide-open clear spot for camping and star-gazing.

01-08-2009, 09:19 AM
JK Super Freak
Join Date: May 2007
Location: Martinsburg, WV
Posts: 1,766
Likes: 0

---
i've been wanting to do this! I had a telescope years ago that was suppose to be able to mate to a 35mm film camera. never got to do it before the telescope disapeared (
).
the camera i have now should be able to mount to a telescope with a proper 52mm adapter ring. but i worry the shutter won't stay open long enough (limited to 60sec) to get a good shot.
and you are right, it is something that sort of goes hand in hand with jeep'n. too much light in the city. need to get out in the middle of no wheres and take star pictures.
and while i don't have a telescope now, i have used my camera's zoom and a tripod to get a few nice star pictures.
i need a digital camera that can hold the shutter open pratically forever.

01-14-2009, 07:11 AM

---
not really "astrophotography" but its night shot, with long exposure... the actual clouds are no where near the red color that showed up. its weird how the long exposure can play with the CMOS

01-20-2009, 07:19 PM
JK Freak
Join Date: Dec 2008
Location: Shreveport, LA
Posts: 712
Likes: 0
Received 0 Likes on 0 Posts

---
Those are some cool pics. I haven't taken anymore yet...too busy moving. The cloud pic is kinda eerie looking. I have learned a little more about the scope. It will track an object's path across the sky.
Yes, a good SLR or DSLR with shutter and exposure control is a must. A good mount or tripod can help too.
The Jeep is perfectly suited to doing this. It can carry everything you would need and it can take you to the best and darkest places around for star gazing.
So...let's go!!! Who's in?

02-19-2009, 02:47 AM
JK Jedi Master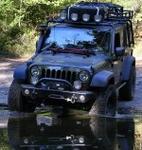 ---
Very nice! I've never done astrophotography through a scope, but I've shot a couple night shots with the sky or moon featured in them:
That's Mars next to the moon in this June 03 image:
And a day shot:
---
Last edited by Mark Doiron; 02-19-2009 at

02:55 AM

.

03-09-2009, 07:30 PM
JK Newbie
Join Date: Feb 2009
Location: Highlands Ranch, CO
Posts: 87
Likes: 0
Received 0 Likes on 0 Posts