$250 versus $600 is it worth the extra for an aftermarket exhaust system?

05-20-2019, 07:14 AM
JK Newbie
Join Date: Jan 2016
Location: Phoenixville, PA
Posts: 3
Likes: 0
Received 0 Likes on 0 Posts

$250 versus $600 is it worth the extra for an aftermarket exhaust system?
---
Dynomax versus Borla. Legano versus Magnaflow. Cherry bomb versus Flowmaster.
You get the idea. Also, Axel Back versus Cat Back? Also Magnaflow versus Flowmaster.
I do not expect a power increase or better fuel economy.
My intent is to get am exhaust system with more of a growl with little to no drone.
Any input would be appreciated.

05-20-2019, 08:19 AM
JK Jedi Master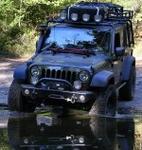 ---
Brett Wood, who owns Dominion Offroad, designed his own muffler system for the 3.8L motor. Recently he added one for the 3.6L. I do know that he compared all of the usual suspect mufflers for the 3.8 effort and was unhappy with them. Too loud. So, he designed his own muffler. I have one for my 3.8 and it is quite nice. Zero drone. Great note, not too loud, but get on it and you definitely know it's not stock. Here's the thing: It isn't cheap. And, at least for the 3.8, it requires moving the evaporative canister, so that can add to the cost (I'd already moved mine anyway). If you're truly looking for a great note, no drone, not excessively loud muffler, and price is no object, then I recommend it. Here's a page, but this is for the 3.8. Give him a call about the 3.6. He's a super nice guy, one of the people who originally got this forum going, and generally right on top of customer needs ...
Dominion OffRoad Hardcore Jeep JK Products

05-20-2019, 08:42 AM
JK Jedi

---
Modifying an exhaust for clearance issues is one thing, but you're never going to get a great sound out of the 3.6L V6, but opinions are obviously subjective. To me the money is better spent elsewhere considering there is little to no gain in performance. I went cheapest route possible for clearance purposes and have a Thrush Welded muffler ($35) that a mom & pop shop mounted for me for $40 with a custom bent pipe from the resonator back. It has a little sound to it without high end drone IMO. I mounted in the factory location, but the muffler is so much smaller than factory that even with a skinny bumper in the rear it's tucked up there, well protected.

If you travel off pavement at all, you might consider not only brand, but location (mounting between the axles instead of factory location).

05-20-2019, 10:08 AM

---
I spent the money on the Borla. Most of my vehicles have had an aftermarket exhaust on them, and some of the nicest ones that I have seen are Corsa and Borla. The fit was perfect, it's stainless (million mile warranty), tucks up nicely inside the frame rails, gets rid of the ridiculously huge rear mounted stock muffler, moves the crossover behind the trans crossmember, and sounds pretty good for a V6. It's always going to sound like a V6 (never going to sound as good as my cammed 428 LSX stroker Pontiac G8 did), but at least it doesn't drone or sound obnoxious like a lot that I've heard. As an added benefit, it seems to have picked up at least a little power. On roads that I regularly drive, in places that it would normally downshift to 4th to hold a steady speed, it now stays in 5th (small hills, slight grades on the highway, driving into the wind, etc...) To each their own, but I am extremely pleased with the Borla Crawler S system.

05-21-2019, 10:39 AM

---

05-21-2019, 05:54 PM
JK Super Freak
Join Date: Mar 2014
Location: Nashville, TN
Posts: 1,404
Likes: 0

---
I have the Dynomax rock crawler exhaust and really like it. Put it together for relatively cheap. Around $200-ish. Installed it myself. Pretty simple for a guy with tools. Getting the old one off was the hardest part.