2008 Jeep Wrangler X Transmission Issues

02-11-2008, 12:07 PM
JK Newbie
Join Date: Jan 2008
Location: COLORADO
Posts: 8
Thanks: 0
Thanked 0 Times in 0 Posts

2008 Jeep Wrangler X Transmission Issues
---
I WANT TO POST MY NOTES OF THE ISSUES I'VE BEEN HAVING WITH MY MONTH OLD WRANGLER TO SEE IF OTHER HAVE HAD THESE ISSUES ALSO.
2008 JEEP WRANGLER X ISSUES:
PURCHASE DATE: 01 01 08
2ND WEEK @ 200 MILES
SECOND GEAR WAS GETTING STIFF TO GET INTO FROM 1ST
3RD WEEK @ 300 MILES
STARTED TO FEEL AND HEAR METAL ON METAL GRINDING ON THE 4X4 TRANSFER, I CAN PULL BACK ON THE TRANSFER SHIFTER AND THE NOISE AND VIBRATION WOULD CEASE BUT ONCE I LET GO SHIFTER MOVES BACK INTO NEUTRAL POSITION AND NOISE WOULD RESUME.
NOISE AND GRINDING WAS SPORATIC, MOSTLY DURING COLD STARTS, BUT GRINDING WOULD ALSO HAPPEN WHEN VEHICLE AND TEMPS WERE WARM. WEATHER @ THIS TIME WAS IN THE SINGLE DIGITS.
ABOUT THE SAME TIME I HAD TO MAKE A QUICK STOP AND FELT AND HEARD THE WHOLE TRANSFER CASE MOVE FORWARD, @ WHICH TIME THE NOISE AND GRINDING STOPPED, BUT RESUMED FURTHER DOWN THE ROAD.
I STOPPED BY THE DEALERSHIP AND MADE A SERVICE APPOINTMENT.
SERVICE APPOINTMENT: 01 26 08 @ 900 MILES
FOUND TRANS NOISY AND METAL IN FLUID, ORDERED NEW TRANS.
SERVICE APPOINTMENT: 02 05 08 @ 1000 MILES
REPLACED TRANS AND TEST DROVE ALL OK AT THIS TIME
I GOT THE WRANGLER BACK 02 06 08 @ 1200 MILES
RADIO STATION CHANGED, SO I'M ASSUMING VEHICLE WAS TEST DRIVEN WITH RADIO ON, HARD TO HEAR NOISES WITH THE RADIO ON.
02 08 08
DRIVING IN A 35 MPH SPEED ZONE IN 3RD GEAR, WHEN STICK STARTS TO VIBRATE EXCESSIVELY SPEED ZONE CHANGES TO 45 MPH MOVE TO 4TH GEAR AND STICK CONTINUES TO VIBRATE EXCESSIVELY.
I ALSO NOTICE THE GRINDING NOISE THAT THE FIRST TRANS MADE, WHICH @ THIS TIME IS SPORATIC AND MINIMAL.
02 08 08
I CALL THE SERVICE ADVISOR AND TELL HIM OF THE SITUATION, HE ADVISES TO DRIVE FOR A COUPLE HUNDRED MILES TO SEE IF THESE NOISES RECTIFY THEM SELFS.
02 10 08
VIBRATION NOISES IN 3RD AND 4TH GEAR CONTINUE
MAKING A LEFT HAND TURN FROM A STOP AND I HEARD AND FELT THE 4X4 TRANSFER GRIND.
OTHER ISSUES WITH THE VEHICLE
TURN STOCK STICKS IN LEFT TURN
PLASTIC BRAKE LIGHT PROTECTOR BROKE
OTHER ISSUES I HAVE WITH THE WRANGLER, JUST IN CAST SOMEONE FROM JEEP IS READING:
CARPETED INTERIOR IN A JEEP????
COLLECTS AND RETAINS DOG HAIR THAT THE VACUME CAN'T SUCK UP
CUP HOLDERS TOO FAR BACK IN CENTER CONSOLE
TOO MUCH PLASTIC AND PADDING IN THE INTERIOR TRIM, ESPECIALLY AROUND THE ROLL CAGE.
NO DIESEL, THIS IS MY BIGGEST BEEF, THEY SUPPLY THEM FOR THE FOREIGN MARKET WHERE JEEP VEHICLES ARE WINNING AWARDS FOR BEING GREEN, BUT THEY WILL NOT OFFER THEM HERE IN THE USA, EVEN AS AN OPTION.
http://dieselblog.net/2006/11/new-je...l-hits-the-uk/
http://www.greencarsite.co.uk/GREENN...redentials.htm
http://www.autoweb.com.au/cms/A_1095...wsarticle.html
http://motortorque.askaprice.com/new...-4x4-award.asp
IF THERE IS ANYONE FROM JEEP READING THESE POST,
PLEASE, PLEASE, PLEASE BUILD THIS FOR THE CIVILIAN MARKET, JUST THE WAY IT IS WITH A DIESEL!!!!!!!!!!!
http://www.blogsmithmedia.com/www.au...6/img_5979.jpg

02-11-2008, 03:44 PM
JK Enthusiast
Join Date: Jun 2007
Location: Winchester, VA
Posts: 197
Thanks: 0
Thanked 0 Times in 0 Posts

---
you keep mentioning "transfer" etc... are you driving in 4 wheel drive on pavement?


02-11-2008, 03:45 PM

---
Wow you are one unhappy customer. I love mine.

02-11-2008, 04:53 PM
JK Enthusiast
Join Date: Dec 2007
Location: reading, pa
Posts: 474
Thanks: 0
Thanked 0 Times in 0 Posts

---
i took mine to the dealer ship today and they are going to be putting a clutch in it. it whines when the clutch is out and if you put ever so slight pressure on it stops.

02-11-2008, 06:18 PM

---
---
Last edited by riverzendz; 02-11-2008 at

06:28 PM

.

02-12-2008, 05:01 PM
JK Enthusiast
Join Date: Mar 2007
Location: Baltimore, MD
Posts: 346
Thanks: 0
Thanked 0 Times in 0 Posts

02-21-2008, 01:59 PM
JK Newbie
Join Date: Jan 2008
Location: COLORADO
Posts: 8
Thanks: 0
Thanked 0 Times in 0 Posts

---
MORE NOTES ON THE SECOND (2) FATAL TRANY
02 12 08 @ 1380 MILES
VIBRATION NOISES IN 3RD AND 4TH GEAR CONTINUE.
THE GRINDING, METAL ON METAL LATHE SOUND THE FIRST TRANSMISSION IS GETTING WORSE, MORE SO THAN THE FIRST TRANSMISSION. THIS TIME ITS MORE PROMINENT IN 3RD AND 4TH.
STOPPED BY THE SERVICE CENTER ON THE WAY TO WORK, MAKING ALL THE ABOVE NOISES, BUT AS SOON AS THE SERVICE AGENT GETS IN THE JEEP, ALL NOISES ARE LIMITED...... HUMMMM.
LEAVING WORK @ 12:00 AMBIENT TEMP WAS 32 F. MADE ALL THE NOISES, TILL I GOT UP TO HIGHWAY SPEEDS, 5TH AND 6TH GEARS.
3RD AND 4TH GEARS, ALL NOISES RESUMED.
I ALSO NOTICED A TRANSMISSION NOISE ON A LEFT HAND SWEEPER, NOT A GRINDING NOISE, BUT A CLICKING NOISE?
02 13 08 @ 1400 miles
CURRENT AMBIENT TEMP IS 60 F, A NICE SUNNY DAY, NOISES ARE MINIMAL.
DO THE NOISES RELATE TO THE OIL TYPE / LEVEL?
02 16 08 @ 1500 MILES
VIBRATION NOISES IN 3RD AND 4TH GEAR CONTINUE.
THE GRINDING, METAL ON METAL LATHE SOUND IS GETTING WORSE, YET ITS STILL SPORATIC.
02 18 08 @ 1580 MILES
DROVE UP TO THE STORE(5 MILES) MAKING ALL KINDS OF NOISES, HARD TO GET INTO 2ND GEAR FROM 1ST AND 3RD GEARS.
DROPED THE JEEP OFF @ THE SERVICE CENTER FOR AN APPOINTMENT TO HAVE THE SECOND TRANS CHECKED OUT. DROVE WITH THE SERVICE ADVISER OUT TO WORK, NOISES WERE MINIMAL....... OF COURSE.
02 19 08 @ 1600 MILES
WENT TO THE SERVICE CENTER TO DRIVE ANOTHER JEEP WRANGLER WITH 4 MILES ON IT TO SEE IF THE TRANS NOISES WHERE SIMILAR TO WHAT I'VE BEEN HEARING.........IT WAS LIKE COMPARING APPLES TO ORANGES
GOT INTO MY WRANGLER AND WENT FOR A RIDE AND IT FINALLY DEVALGED THE NOISES WHILE MAKING A LEFT HAND SWEEPER IN 3RD GEAR, SERVICE ADVISER HEARD THEM ALSO......... I'M NOT CRAZY AFTER ALL.
SERVICE ADVISER STATED THAT CHRYSLER WILL HAVE TO SEND A REPRESENTATIVE OUT TO ASSES THE SITUATION, SINCE ITS THE SECOND TRANSMISSION.
02 20 08 @ 1680 MILES
THE JEEP WAS MAKING ALL KINDS OF PREVIOUSLY LISTED NOISES AND THEN SOME...... WHY COULDN'T IT HAVE DONE THIS YESTERDAY W/ THE SERVICE ADVISOR ON BOARD?
02 21 08 @ 1700 MILES
MADE ALL THE NOISES WHEN I WENT TO THE STORE THIS MORNING, AS I WAS GOING OVER THE SPEED BUMPS @ THE STORE I HEARD AND FELT THINGS SHIFT IN THE TRANY AND FOR A MOMENT ALL NOISES WENT AWAY...... FOR A MOMENT....... AS THEY RETURNED FURTHER ON DOWN THE ROAD.
I'M ALSO HEARING THE TICKING NOISE FROM THE ENGINE, POSTED ELSE WHERE ON THE FORUM. I ASKED THE SERVICE ADVISER ABOUT IT AND HE SAID THEY ALL DO IT..... HUMMMMMM.
NOW,
AS FOR THE QUESTIONS ABOUT DRIVING IN 4X4 ON DRY PAVEMENT................... I MIGHT BE DUMB, BUT I'M NOT STUPID.
LIVING IN COLORADO THIS IS NOT MY FIRST 4X4 NOR WILL IT BE MY LAST, BUT IT JUST MIGHT BE MY FIRST AND LAST JEEP........ UNLESS THEY RECTIFY THIS ISSUE.

02-21-2008, 02:33 PM
JK Enthusiast
Join Date: Nov 2006
Location: DePere, Wi
Posts: 146
Thanks: 0
Thanked 0 Times in 0 Posts

---
Ok totally off topic but I've got to ask, I worked with a guy in Crested Butte, CO nicknamed Huffster. Just wondering if it would be you. You ever own a green 2wd S-10?

02-21-2008, 06:15 PM
JK Enthusiast
Join Date: Dec 2007
Location: Libertyville, IL
Posts: 191
Thanks: 0
Thanked 0 Times in 0 Posts

---
Try another dealer or start to press Jeep for a replacement.
You obviously have a problem with the drive train.
Pursue a remedy, hard, it's your cash.
I can't go along with your other complaints when they were there when you looked at it, test drove it, signed the paperwork.

02-22-2008, 04:30 AM
JK Jedi Master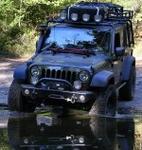 Join Date: Mar 2007
Location: Midwest City, OK
Posts: 13,879
Thanks: 0
Thread
Thread Starter
Forum
Replies
Last Post
JK Electrical, Lighting & Sound Systems
JK Electrical, Lighting & Sound Systems
JK Electrical, Lighting & Sound Systems
Posting Rules
You may not post new threads
You may not post replies
You may not post attachments
You may not edit your posts
---
HTML code is Off
---